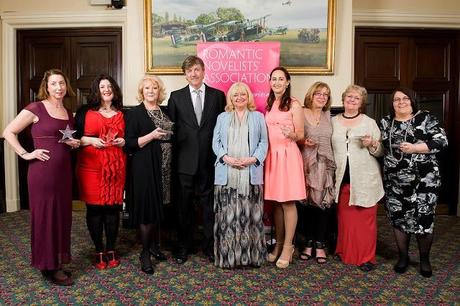 This was the first year in ages that I didn't get to the Romantic Novelists' Association's RoNA awards bash - and I'm really fed up about missing it.
The RoNA awards celebrate the very best in romantic fiction and the party is always fun and ultra-glamorous. The champagne flows, you get to meet some of the best writers, publishers and agents in the business and RNA members' shoes (from sky-high heels to leopard-print ballet pumps) are a delight to behold.
This year's party was held at the RAF Club in London's Piccadilly, with Judy Finnigan and Richard Madeley (no mean writers themselves) on hand to announce the five category winners.
So three cheers for Katie Fforde, who won the Contemporary Romantic Novel award for the second year running – this time for Recipe for Love.
Rowan Coleman triumphed in the Epic Romantic Novel category with Dearest Rose while Jenny Colgan scooped the Romantic Comedy Novel award for Welcome to Rosie Hopkins' Sweetshop of Dreams.
The Historical Romantic Novel winner was Charlotte Betts for The Apothecary's Daughter and the Young Adult Romantic Novel award went to Victoria Lamb for Witchstruck.
The five winning novels now go forward to the RNA Romantic Novel of the Year award and the overall winner will be revealed at the RNA's summer party on May 16.
RNA chair Annie Ashurst, who's written scores of novels herself, told the 250 party guests: "… we are here to celebrate the success of our brightest stars. We are proud of their talent, tenacity and dedication to their craft.
"It is a lovely thing to write a novel and to keep on going even as doubts set in – as they do with us all. Our awards give us an opportunity to publicly recognize the enjoyment you bring to your readers."
Hear, hear, Annie...
PS. As well as the RoNAs, Sophie Kinsella was given an Outstanding Achievement Award. The RoNA Rose Award went to Sarah Mallory.