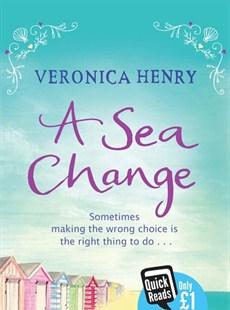 I'm a huge fan of Quick Reads, the "bite-size" books that aim to get more people reading. 
Around one in six adults of working age in the UK find reading difficult and many never pick up a book. That's where Quick Reads come in. Launched in 2006, Quick Reads  commissioned a host of big name authors to write short books that are specifically designed to be easy to read. The initiative has proved so successful that over the last seven years 4.5 million books have been distributed and three million library loans clocked up.
New authors are added every year, with the latest starry batch of names including Andy McNab, Kathy Lette, Minette Walters and Veronica Henry. The novels cost a bargain £1 each and have turned loads of previously reluctant readers into "book addicts."
I've read several Quick Reads over the years and when I spotted A Sea Change by Veronica Henry in Foyle's at St Pancras the other day I snapped it up to read on the Eurostar.
The story was perfect for my train journey. It's only 90 pages long but has all the charm and insight of Henry's longer novels. Set in the fictional seaside village of Everdene, it's the tale of ice-cream seller Jenna, who turns up for work one hot summer's day to find that she's been sacked. With a flaky family, no money to pay her rent and no work on the horizon, she takes drastic action – action that catches the attention of a young copper sitting on the beach.
Henry's story is thought provoking, easy to read and as light as the summer breeze. The perfect Quick Read in fact.
A Sea Change by Veronica Henry (Orion, £1)