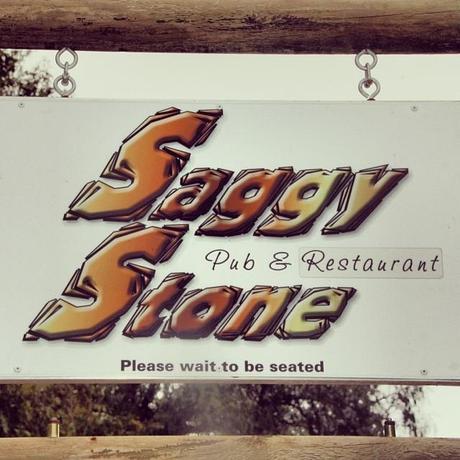 'Turn left at Rooiberg and follow the road into the mountain', that is what I was told at the Robertson Information center on a previous visit to the valley and that is exactly what I did now. 'You will find a brewery with the most amazing views' and that is what I was looking for when I took the turnoff. Blindly we drove the road, with no signs, just the mountains closing around us. I love expeditions like this! My heart beats faster and my mouth start watering at the idea of something special and unique at the end of the road. You always feels like you are the one that discovered it, untill they tell you at the restaurant that it is fully booked for Valentines dinner. 'WHAT! REALLY? But it is in the middle of nowhere!'
Well, the secret is out to this spot between the vineyards and mountains on the road from Worcester to Robertson.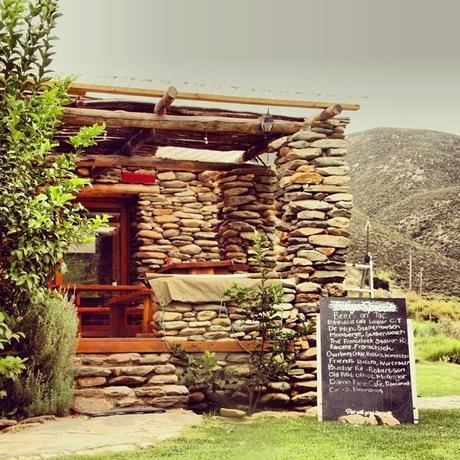 A stone building between vineyards and plum orchards greets you when you arrive. A big grass area with welcoming umbrellas over wooden benches invites you to sit down. It is a perfect spot for friends, family, kids and dogs to spend a whole afternoon over many pints if beer.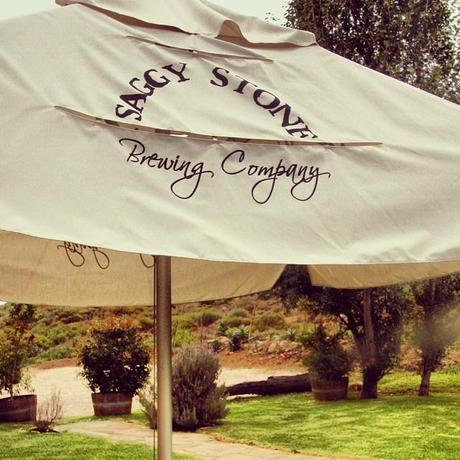 It was not lunchtime for us yet, but when I heard they bake their own bread, it quickly became the place to eat. After a beer tasting in the cosy bar, I couldn't wait to have my own whole pint of the local brew. I've tasted some Craft beers around South Africa and Europe…some good and some really bad, but this was so refreshing and exciting.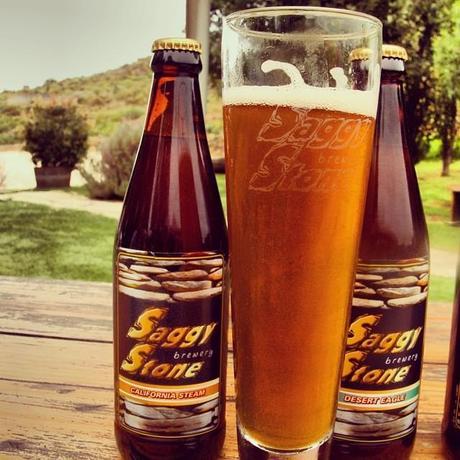 Everything on the menu is freshly made. From the chicken livers, that I had, to the homemade steak and ale pie that my heart wanted, but my tummy did not have space for. Hubby's sandwich came with a doorstop of freshly baked bread and gooey cheese. To find this hidden gem with locally brewed beer and the carefully chosen affordable menu with fresh ingredients, made my heart beat with excitement. These people care!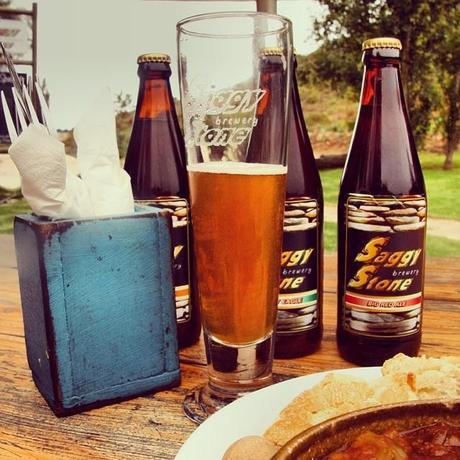 The people behind Saggy Stone Micro Brewery Company are Adrian Robinson,his wife Jackie and Adrian's brother, Phillip.
Adrian was kind enough to answer a few questions, so read Saggy Stone's story straight from the maker of this refreshing local brews.
1. How long have you been making beer?
My brother, Phillip, visited Australia about 6 years ago on holiday and was struck by the micro-brewery industry which was nestled amongst the wineries. So we started home brewing with the intention of designing our own recipes – literally doing 20 liter batches (which took the whole day!!). December, 2010, we opened our brew pub on our farm in Robertson so that we could start selling our beer.
2. Where do you get your ingredients from? Do you grow any yourself?
We buy our grain from Caledon, SAB Maltings, and our hops and yeast from Beer Lab
3. I heard the story about all your previous jobs before you ended as a brewer. What did you do before and why did you start making beer?
Both my wife and I studied teaching at UCT, but after teaching for 3 years we went into the business world and I started at Epic Oil Mills repping to the baking industry. Having this close contact with bakeries inspired us to start our own bakery just as we were starting our own family. We moved back to Cape Town and started A Slice Above bakery in New Church Street and ended up delivering to over 50 customers a day. 8 years later, after a life-changing motor bike accident and a deep meaningful discussion in a Jacuzzi with my brother and a bottle of wine, we decided to buy a farm. Hence the move out to Robertson where we have a fruit and wine farm, delivering our grapes to Rooiberg and exporting our fruit. Being closely associated with Rooiberg, we started the restaurant/bakery at Rooiberg (Bodega de Vinho) which my wife ran for the last 6.5 years. She is now running our brew pub permanently.
4. Why did you decide to make beer on your farm and in Robertson?
The farm has its own natural mountain water supply which makes our beer unique – the amazing taste of the water certainly enhances the flavor of the beer
5. Where does the name Saggy Stone come from?
We have a small place in the mountain behind our farm which was burnt down during a fire about 6 years ago. We rebuilt the lapa using the river boulders in a gabion style manner, unfortunately a troop of baboons sat on the walls before they were complete and the whole structure sagged – our young daughter, Casey, nicknamed the lapa Saggy Stone. When we started building the brew pub we also used river boulders for the walls and the comparison was drawn and the name stuck. It gets called "Shaggy Stone", "Saggy Bottom" etc so it is good for a chuckle!!
6. Any interesting/funny stories about you, your beer or animals on the farm?
I think the answer to 5 answers this one but only to add that we have a Great Dane, Chilli, who has become a bit of a celebrity at Saggy Stone. He makes his way across to the pub every weekend where he lies, regally, on the grass watching the activities of the day. He is extremely gentle and allows the kids to play with him unperturbed. We often get repeat customers who ask for him if he isn't there!
7. What is your recipe for success?
Just love what you do – if you wake up in the morning and enjoy going to work then whatever you do will be a success
8. Your favorite meal with your beer? Beer and Food pairing?
To be honest – braai! But my favorite beer and food pairing is the Desert Lager with Peri-peri prawns
9. Where are you originally from?
I was born in Namibia, staying in Swakopmund and then in Mhlume, Swaziland on a sugar cane farm as a youngster. Finally living in Cape Town.
10. Who will be inheriting your fantastic brewery and business?
We have 3 daughters and my brother has a son and daughter so there are a lot of contenders but I plan to do this for MANY years to come.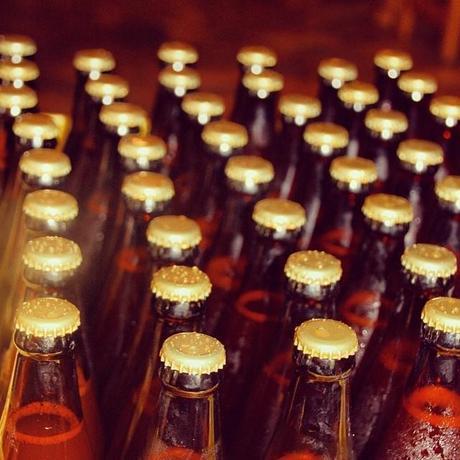 During our lunch the owners came around with a crate of beer to be labelled and suggested a tour of the brewery! To me, this is what real South African hospitality is made of. I will forever stay a fan of Saggy Stone and their delectable food and their passion.
So next time you are on the road between Worcester to Robertson, take the turnoff at Rooiberg. Follow the road untill you get to Saggy Stone. It is worth the time and it is the best place to have lunch and a well deserved break! Sometimes it's good to take the road less traveled to find that little oasis.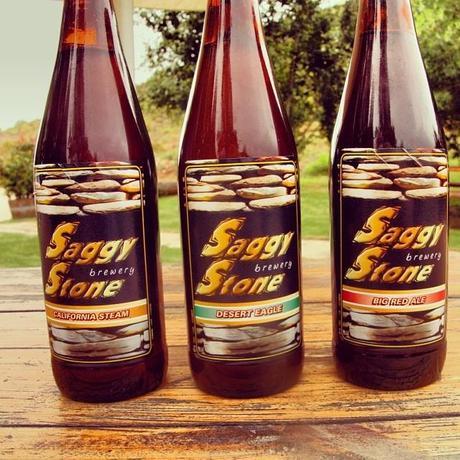 Read My craft beer.co.za for expert knowledge of the selection of Beer at Saggy Stone Brewery and how it's made.
Saggy Stone Brewery
Like Saggy Stone Facebook
Twitter: @saggystone
Jackie Cell: 083 4533526
Adrian Cell: 072 5507602
Email: [email protected]
How to get to Saggy Stone:
From Worcester:
Take the Nuy Valley turnoff from the R60 and follow the road for 6.2km. Turn right at the Amandalia sign and follow the road for a further 10km. (You will pass the Nuy winery just after turning right. At the Saggy Stone sign, turn left and the restaurant and pub are 600m ahead.
From Robertson:
Take the Agter Vinkara turnoff of Rooiberg from R60 and travel for 4km to reach a cross road. Continue straight on for another 10km until you see the Saggy Stone sign on your right.
Open Fridays to Monday and Public Holidays
11h00 – 16h00
Closed Tue, Wed, Thur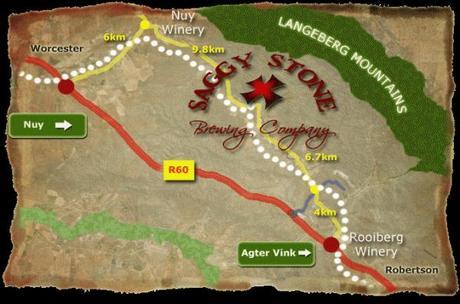 Posted with Blogsy