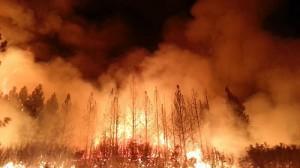 The Rim Fire is currently devastating a huge swath of land in California, and an explainer called How Climate Change Fuels Wildfires is making the usual rounds. It originated on Mother Jones, but has since popped up on a number of sites.
As per the video, there are several climate-related issues that help fuel forest fires, but there are a couple other human-action contributing factors to the devastation.
I-News, an investigative journalism group in the Rocky Mountains, last year discovered that "in the past two decades, a quarter million people have moved into Colorado's red zones—the parts of the state at risk for the most dangerous wildfires…1.1 million Coloradans live in more than half a million homes in red zones across the state." The Forest Service's Tidwell also told the Senate that more than 40 percent of US forests are in need of hazard reduction, but that's a tall order in the era of sequestration.
So, we have hundreds of thousands of people moving into the line of fire. (Keep in mind, large-scale fires in the west are not new phenomena. Indigenous peoples are known to have used fire ecology hundreds of years ago.) Concurrently, we have public policy that fails to address the recurrent issue of forest fires.
While Mother Jones can make a compelling argument that climate change is worsening forest fires, there's an argument as well that forest fires are just another part of the larger mismanagement of resources and ecology that we call climate change.
Speaking of climate change, remember when it was called global warming? A quick note on that: Global warming was initially a technical phrase referring to the Earth's rising surface temperature, believed to be caused by increased carbon in the atmosphere.
When talking about forest fires, the phrase global warming seems to make a lot of sense, but about 10 years ago, there was a change in our vernacular.
Climate change incorporates a meaningful idea into the idea of the phenomenon: the idea that not all the ramifications of increased carbon (and other human-caused changes to the environment) are going to be strictly related to raising daily averages temps. Instead, it can capture worsening flood seasons, droughts, and even heavy snowfall.
Ironically, "gobal warming" became "climate change" on the recommendation of Frank Luntz, Republican Advisor to the Stars (and then-President George W. Bush), because Luntz figured "climate change" sounded less scary than "global warming."
From a Guardian article at the time:
"The scientific debate is closing [against us] but not yet closed. There is still a window of opportunity to challenge the science," Mr Luntz writes in [a] memo, obtained by the Environmental Working Group, a Washington-based campaigning organisation.
"Voters believe that there is no consensus about global warming within the scientific community. Should the public come to believe that the scientific issues are settled, their views about global warming will change accordingly.
"Therefore, you need to continue to make the lack of scientific certainty a primary issue in the debate."
The phrase "global warming" should be abandoned in favour of "climate change", Mr Luntz says, and the party should describe its policies as "conservationist" instead of "environmentalist", because "most people" think environmentalists are "extremists" who indulge in "some pretty bizarre behaviour… that turns off many voters".
The man used "global warming" in a memo about how to instill doubt in the public about whether global warming was a real thing.
I wonder if any of those quarter-million Coloradans living in the path of the next major forest fire wish we'd had a little less doubt, a little sooner.