It's been ten long years of renovations, repairs, flooding, asbestos handling as well as disagreements over all the above, but the Rijksmueum is back and it's better than ever.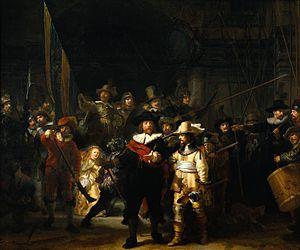 Or rather, it will be back as of April 13th, its official re-opening date. The soon-abdicating Queen Beatrix herself will be on hand to unveil the newly redone Dutch state museum that has been closed at this location since 2003. The process was never meant to last this long - the work is millions of euros over budget and five years over schedule. While digging down into the basements, the construction workers were met with floodwater  which could not have been that surprising since both the Rijksmuseum and Amsterdam itself are well below seal level. Workers were forced to attempt to repair the damage while floating around in boats, which sounds incredibly Dutch and badass. The museum lighting has also been changed - from harmful-to-paintings incandescent bulbs to heat-free LED lights that also bring out more hues than the former.
The brains behind the monumental alterations are the Spanish architects Cruz y Ortiz who actually got the job by winning a competition. Their design undid years of previous restorations, reverting the museum structure to that of the original designs made by Pierre Cuypers. They brought back his original layout of galleries, and committed to his traditional sense of ornamental detailing that had been gradually eliminated over the years. As a result, the museum has a brand new outdoor exhibition space, Asian pavilion, main entrance, shopping concourse section, food facilities, and educational space, as well as an updated library to boot. The overall design of the museum is no longer slave to mismatched architectural additions - everything is new and matching. A new atrium will function as a free socializing space, an urban hangout of sorts, home to temporary free exhibits and other artistic displays. The museum will also now be arranged chronologically, rather than topically to provide a better concept of Dutch artistic development over the ages.
Alongside the famed "Night Watch" by Rembrandt, the museum is happily bringing back its entire permanent collection which includes Vermeer, Hals, Steen, Pieter de Hooch, Aelbert Cuyp and Johannes Verspronck.
And I bet the souvenirs will also be fabulous.

© 2013, Amsterdam City Tours Blog. All rights reserved. On republishing any part of this post, you must provide a link back to this original post