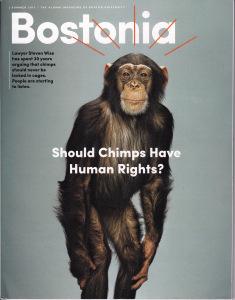 Bostonia is but one of several alumni magazines that makes its way to our humble apartment. Between my wife and I we have many colleges and universities begging us for money while offering us no jobs. Despite being a denied professor I have little time for magazines. I've always been a book man. If I'm going to put time into something I want an ISBN to claim at the end of the day. Still, the cover of the Bostonia asks a relevant question: "Should Chimps Have Human Rights?" I have long argued, based on books I've read and on personal experience, that animals are conscious beings, like we are. If consciousness evolved, it has to have its roots in other animals, otherwise scientists are positing "special creation," call it what you will. If animals share consciousness, they should share rights.
People have used animals for as long as they could figure out how to do so. It may have been a two-way street at first, since we're pretty good at protecting critters we find valuable and who doesn't like a free lunch? They stick around us. The earliest domesticated animal seems to have been the wolf, which we made into a dog. Other common mammals joined the mule train after that. Humans: they treat you rough, but they'll make getting food a snap. There's a kind of consciousness involved already, don't you think? If they can't figure out that we're not going to harm them (at least not yet) then they're smart enough to keep their distance. Not all wolves became dogs.
Primates, however, are a special case. They sort of look like us. Chimpanzees, especially, act like us. They don't get human rights because those are reserved for others of our own species. I mean, consider those in charge of the free world! They believe in the right to acquire as much of the world's resources as they can for themselves. They guard the use of those resources so they can live in unutterable luxury and make everyone else pay through the nose for the very necessities of keeping alive. The masses pay taxes while those who have more than enough do not. We are a domesticated species, it seems to me. Don't get me wrong—I do believe chimps should have human rights. Other animals too. We're all connected. But the real question I have, looking at the headlines from Washington, DC, is turned the other way around: should humans have the rights of chimps? Don't ask me; universities won't hire my likes when others will bring them greater glory. They'll gladly accept my money, however. It's their right.