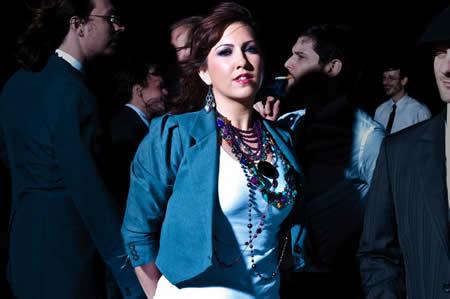 The Right Now loves the soul of yesteryear. On their new album get Over You lead vocalist Stefanie Berecz has the blackest white voice from Chicago. She can be sexy, angry and coy, sounding more confident ever. You need horns to get a funk goinga an the band's sax tandem Jonathon Edwards and Jim Schram are way up front with trombone player Corey Fritz adding bottom. Composer Brendan O'Connell refrains from dazzling guitar solos, playing rhythm mostly, the traditional role of the guitarist in this genre.
Their precious album Carry Me Home looked back to the Memphis sound and that's still here, but they've toughened up the overall feel of their material - the prime example is the classic Dusty In Memphis album. Most of the songs deal with man trouble Good Man, He Used To Be, Half As Much. To proof that they are not tied down to funky soul, The Right Now throws in a bit of reggae bass noodling during Can't Keep Running, taking a bow for The Supremes' harmonizing.
Gets Over You is an album that touches base with their funky ancestors: George Benson Call Girl, The Ronettes in I Can't Speak For You. They are not plagiarists, they carry on the tradition.
The Right Now:
Stefanie Berecz: vocals
Brendan O'Connell: keyboards, guitar
Chris Corsale: guitar
Greg Nergaard: bass
John Smillie: drums
Jonathon Edwards: baritone sax
Jim Schram: tenor sax, flute
Corey Fritz: trombone

Gets Over You is a self-released album. Buy it from the band's website. Release date: April 10th. Good Man b/w He Used To Be will be released as a 7" on Record Store Day.,
Tracks:
I Can't Speak For You
Good Man
Can't Keep Running
Tell Everyone The Truth
Should've Told Me
I Could Kiss You (I Could Cry)
He Used To Be
Half As Much
Call Girl
Higher
'Til It Went Wrong
Live dates:
04/20 Pittsburgh PA @ Thunderbird Cafe
04/21 Cincinnati OH @ MOTR Pub
04/23 Williamsport PA @ Bullfrog Brewery
04/24 Philadelphia PA @ World Cafe Live
04/25 Washington DC @ Comet
04/27 New York NY @ Rockwood Music Hall
04/28 Toledo OH @ Frankie's
05/03 Kansas City MO @ RecordBar
05/04 St. Louis MO @ Old Rock House (w/ Fresh Heir)
05/12 Chicago IL - ALBUM RELEASE PARTY @ Lincoln Hall (w/ DeRobert & the Half Truths + DJRC)
05/17 Davenport IA @ Redstone Room (w/ Daphne Willis)
05/25 Indianapolis IN @ Jazz Kitchen (w/ DeRobert & The Half Truths + Bashiri Asad)
05/26 Nashville TN @ The 5 Spot (w/ DeRobert & The Half Truths + Bashiri Asad)
» therightnow.com
HCTF review of Carry Me Home.