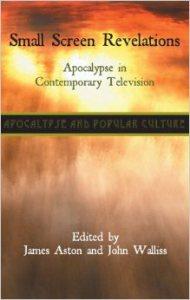 The end of the world as we know it is far more common than reason might suggest. As I've been researching the way the apocalypse is represented in popular culture, I've been impressed at just how prevalent it is. James Aston and John Walliss have brought together some intriguing essays on the topic in Small screen Revelations: Apocalypse in Contemporary Television. As one contributor notes, it is far more common to find the apocalypse in science fiction, horror, and fantasy programs, but it clearly visible in other genres as well. It is primarily an American phenomenon, although it may also be found elsewhere. It's pretty hard to pin down the end of the world. On television it comes in both fiction and non-fiction varieties. The constant here is that we know it's out there.
What I found most revelatory about the subject was a persistent question: why? Why are we so fascinated by the end of the world? I'm no sociologist, so I can't give any kind of statistical answer. As the owner of a gut, however, I can offer a feeling. It seems to me that a culture of privilege ought to have a measure of guilt. While apocalyptic belief is most common among the poor (sorry, no statistics to back me up here) it also commonly occurs among the affluent as well. At the same time, we know that, as a society, we have far more than our share of the world's goods. We have a massive military to make sure nobody else shares those goods. We must know, at some level, this is wrong.
At the same time, how can we give up what we're so used to? An apocalypse wipes the slate clean. The essays in Small Screen Revelations offer more sophisticated theory than my simple observation, but academics have an obligation to muddy the waters. Considering the sheer number of shows cited: Buffy the Vampire Slayer, Battlestar Galactica, Lost, The Simpsons, Supernatural, Angel, The Walking Dead, Jericho, Doctor Who, Terminator: the Sarah Connor Chronicles, in addition to television news anchors and televangelists, the apocalypse is very easily found. So easily found, in fact, that one can become inured to what is supposed to be the ultimate end of everything. It's related to what I've called elsewhere the crisis of superlatives. The fact that it's television, however, provides a ready answer for what happens next. After the apocalypse we simply wait until the next season. After all, there's a market for post-apocalyptic entertainment as well.