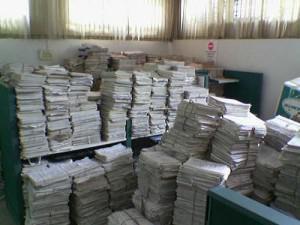 Last year 2nd Green Revolution had a series of posts on paperless receipts. The first post, "The End of Paperless Receipts?", included a link to an article on the website Software Advice. After that initial post, there were a number of follow ups. While a local market had started asking whether or not its customers would like their receipt (and if not, they didn't just print it out and throw it away), there had not been much in the way of excising these strips of paper.
As noted in one of the earlier posts, the technology giant Apple has done away with paper receipts in favor of emailing a copy of the transaction to customers. It appears that other retailers are starting to join them. A recent NPR story pointed to companies that have seen a multifaceted benefit from the paperless receipts. As an example of the convergence between economic and environmental sustainability, paperless receipts allow companies to save money on the paper for receipts, but perhaps more importantly provide an opportunity to market themselves. In addition to Apple, NPR lists Patagonia, Nordstrom, and now GAP, Banana Republic, and Old Navy as converts.
The story mentions that saving paper is more of a bonus perk and not the driving factor. Much "like reward cards, e-receipts give retailers another way to track shopping behavior, which has great value. If a company knows how its customers shop, it knows what products to push." The efficiency of direct advertising and streamlined product returns serve both the companies and consumers.
Seamless Receipts is profiled in NPR's article. The company offers retailers a platform for engaging customers on the electronic receipts. By reaching customers through this medium, businesses have another avenue to cut back on resource consumption. On Seamless Receipts' homepage there is nary a mention of saving paper. Perhaps this is another small sign that the revolution is indeed upon us.
[Image source]