Along with Republican Kansas Governor Sam Brownback wanting to take money from the state's pension fund in order to pay for his and the Republican Party's fiscal screw ups and nightmares, there's this, too: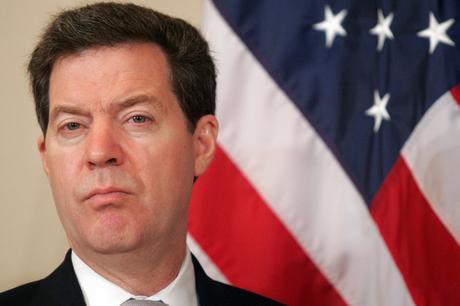 Gov. Sam Brownback is cutting aid to Kansas schools by $44.5 million
I won't paste the entire article here, describing what these irresponsible putzes are doing or trying to do but here's a snippet:
Brownback's plan takes $28 million, or 1.5 percent, out of elementary and secondary education, including $5 million from Johnson County schools. The districts taking the biggest hits will be Olathe, Shawnee Mission and Blue Valley. The Republican governor also sliced more than $16 million, or 2 percent, from higher education.
So much for the education and growth of our children for our own and their futures, huh?
It's a pretty important article. I would absolutely recommend any and every adult Kansan read it and see what these chuckleheads are doing or trying to further do to your state and take from your children and even you, yourself.  
Really, Kansas.  You're better than this.  You were always smarter, much smarter than this.
Could we dispense with that whole "trickle down", cut the taxes for the wealthy and corporations idea now, locally and nationally?
Please? Finally?  Forever?
Meanwhile, seems the Republicans just don't have anything going right for them over in our neighbor state:
Put another way, this news makes much more sense:
Brownback advisor 

arrested

 on suspicion of drunk 

driving
For a "Brownback advisor" to be drunk. 
Yes, I have to say, that explains a lot.
It explains, maybe, the last several years of governance in Kansas.