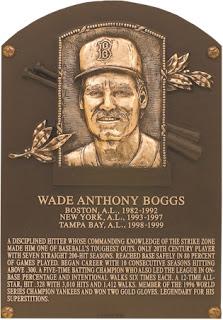 The Red Sox announced yesterday that they will retire number 26 in honor of Hall of Famer Wade Boggs in 2016.
Interesting day they are retiring his number: May 26th. May is the fifth month, and third base, Boggs' position, is number 5 on your scoresheet. Coincidence? Hmmm...
It's been a mystery why it took the Red Sox so long to honor Boggs, who owns the highest batting average at Fenway Park of any player to play for the Red Sox (.369). He retired in 1999, and was a first-ballot Hall of Famer in 2005. His move to the Yankees in 1993 miffed many in Boston (and especially seeing him on the horse after they won the World Series in 1996), but that was long ago. The Sox really had no interest in resigning him after he had a down year in 1992, hitting just .258. Their were whispers that he was washed up at the age of 34, and no one was banging down his door to sign him. The Yankees were one of the only teams interested, so he went there. The Sox immediately gave out number 26 to another player the next season.
Nick Cafardo wrote an interesting article in the Boston Globe about it, and seems to think it is may not be a coincidence that with Larry Lucchino leaving the Sox, management now felt is was time to honor Boggs.
Boggs becomes the ninth Red Sox player honored with his number retired by the team. Is Roger Clemens next?
Brock Holt, currently with number 26, will wear number 12 next season.