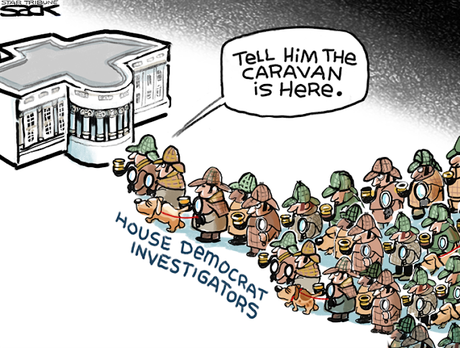 (Cartoon image is by Steve Sack in the
Minneapolis Star-Tribune
.)
For the last couple of years, Donald Trump (and his cronies in the presidential administration) have had a free ride. The very few "investigations" that House Republicans have allowed were nothing but a blatant attempt to whitewash Trump's sins. That is over in January, when the Democrats take control of the House of Representatives.
Democrats have tried to start investigations into the dubious behavior of the Trump administration. Republicans quashed every attempt to do that. Listed below are 18 investigations that are very likely to happen now. And you can
go to Axios.com
for another list of 18 possible investigation, and a list of 59 subpoenas the Republicans refused to issue (but are now likely to be issued).
There's one more reason it's important that the Democrats will now control the House of Representatives. By firing Sessions and installing Whitaker as Attorney General, it is likely that Trump is trying to block the Mueller Report and keep it from being issued to Congress or the public.
But thanks to the GOP changing the rules (to allow committee chairs to issue subpoenas without minority compliance), there is a very good chance that if the report is not made public -- then the Democratic committee chairs could subpoena the report, and maybe even subpoena Mueller to testify about what is in the report.
Things are about to get very interesting on Capitol Hill, and that has to be worrying those in the Trump administration.
LIKELY INVESTIGATIONS:
President Trump's tax returns
Trump family businesses — and whether they comply with the Constitution's emoluments clause, including the Chinese trademark grant to the Trump Organization
Trump's dealings with Russia, including the president's preparation for his meeting with Vladimir Putin
The payment to Stephanie Clifford — a.k.a. Stormy Daniels
James Comey's firing
Trump's firing of U.S. attorneys
Trump's proposed transgender ban for the military
Treasury Secretary Steven Mnuchin's business dealings
White House staff's personal email use
Cabinet secretary travel, office expenses, and other misused perks
Discussion of classified information at Mar-a-Lago
Jared Kushner's ethics law compliance
Dismissal of members of the EPA board of scientific counselors
The travel ban
Family separation policy
Hurricane response in Puerto Rico
Election security and hacking attempts
White House security clearances