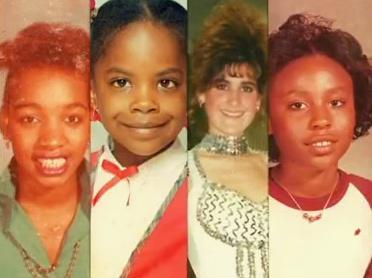 You wish, boys.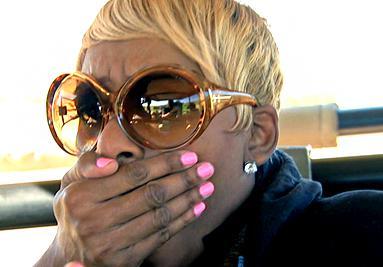 OMG. That's my real hair? Lawd have mercy.
You might want to be Tardy for this Party. Just sayin'.
Oh hell, no.
Lawd help Andy Cohen the next time he runs into Sheree Whitfield or Phaedra Parks in the Bravo TV cafeteria.
Would you want to be in his Ferragamos when he runs into those two Georgia peaches and has to explain why they didn't make the cut for this week's ATL Special?  I dare you.
As a little teaser and refresher course for next week's Season Premiere, The Real Housewives of Atlanta: Before They Were Stars slapped us all in the face with enough sass, bad hair and "OhNoSheDin't" NeNe-isms to guarantee that DVRs all across America are now set on Series Record.
Combining all the best re-enactment production stylings that Bravo could steal from 60 Minutes, E! True Hollywood Story and I Didn't Know I Was Pregnant without getting sued, they gave us a look into where some of our favorite ATL Housewives came from and…well…why they ended up like they are now.
Tastefully deciding to not subtitle the opening credits with "…except Sheree and Phaedra, who aren't interesting enough…" the special focuses on over the top Housewives NeNe Leakes, Kim Zolciak, Kandi Burruss and Cynthia Bailey.  That last one must really have Sheree grinding her jaw given the fact that Cynthia and all her financial drama just showed up this past season, and apparently already eclipsed Sheree's Community Theater acting career.
NeNe sez "Oh Snap."
You knew right from the opening graphics, which were an odd mix of The Brady Bunch and any random '80s sitcom of your choosing, that this was going to be classic Housewives.  After a summer away from the girls, everything seemed even more outrageous and expensive.
NeNe seemed even more NeNe.  Nobody loves NeNe more than NeNe loves NeNe.
Kandi's crazy laugh still exploded out like a homegirl sitting on the stoop with her boom box, but even crazier now.  She's still all wide eyed and fabulous.  She "owns this city."
If that's true, maybe she could do something to fix that nasty school system cheating scandal that was just exposed.  For real.  Google it or turn on CNN when Housewives is over.  It shouldn't be my job to keep you up on current affairs…it's Anderson Cooper's.
Cynthia seemed prettier, except when they kept flashing back to her in no make up.  Yikes, thanks but no thanks.
And Kim's boobs seemed even bigger, if that is even gravitationally possible.
Seriously, Kim?  There's underwire, and then there's the cable they use for suspension bridges.
NeNe sez "Girl, please.  Get real."
Between NeNe, Cynthia and Kandi there were enough whacky friends and family members giving testimonials to fill an Atlanta arena.
If the arena was hosting the TV Land Good Times, Cosby Show, 227 Reunion Convention, that is.
Girrrl, please.
Memo to Bravo: Kandi's Momma Joyce and Uncle Bebo and anyone else falling out of that family tree needs to be immediately given their own show.  I know times are financially tough, but it would be the best and cheapest show to produce.  Ever.  I swear.
Just prop a camera up around the kitchen table and walk away.  I guarantee you television gold.
Plus the money that you save on production costs for The Joyce & Bebo Show could be used to replenish the supply of push pins for the Bravo War Room Baby Daddy map, because I'm certain that you have to be running low after tagging every dude who ever knocked up an ATL Housewife and then left town.  For real.  The list went on and on tonight.  No wonder Momma gets all fidgety at dinner time.
My new ringtone is totally going to be Momma Joyce and "The Baby Daddy/Baby Momma Remix."
NeNe sez "Close your legs…!"
But anyway.  The special followed each Housewife from their humble beginnings to their current OK! Magazine lifestyle.
NeNe relived her cheerleading years, her Sweetheart Trophy and 4H Club activities.  Since everyone in her family seems to share the same name, Aunt NeNe showed up to give us some insight into what our NeNe was like in school, and the tough period in her life when she was dealing with an abusive boyfriend.
In typical NeNe style, even when she was discussing a not so pleasant incident in her past, she made it fiercely clear that at the time she was wearing a pony tail weave that got pulled out.  Nobody touches NeNe's weave.
Kim's early years were typically Navy Brat, moving from town to town.  When they finally settled down, she got herself kicked out of Catholic School.  Try to act surprised.  Most of Kim's past involved wanting to be a dancer, which I found a little surprising since she can't sing or dance according to any Pride Week Tardy for the Party lip synch I've ever witnessed on the show.
I want to be an astronaut, but you don't see me on the Shuttle, do you?
Without actually running an animated "Gold digger" crawl under Kim's face, Bravo managed to point out that for quite some time she had no problem taking all of Big Poppa's money, before suddenly switching gears and backing Kroy Biermann into a pregnant corner this year.
NeNe sez "Trailer trash."
Cynthia was pretty much a text book story of getting discovered and becoming a high fashion model, with some step dad issues thrown in for good TV.
After pulling a George Jefferson and movin' on up from the Projects to a nicer neighborhood, her life started to change.  She was the first Homecoming Queen at her school who was not pasty white, and when she was later competing with other Queens in some kind of pageant or whatnot, was spied by a rep for Willamina Modeling and the rest is Annie Leibovitz history.  Her modeling career was definitely more successful than her engagement career as she went through NBA players and Hollywood actors before settling down with Peter Thomas.
For those of you still trying to catch up, Peter is the man she just married last season in an extravagant Flintstone's wedding under some massive dinosaur bones.  Can't make this stuff up.
NeNe sez "Work it, girl."
Kandi was the most legitimately famous of the girls before Andy Cohen laid the Housewives Golden Egg.  She beat boxed it out with her girls as part of the singing group Xscape and scored some Grammy trophies for her song writing.  I'm pretty sure she's not on Beyonce's speed dial, but Kandi did help keep Destiny's Child on Billboard's Top 100 long enough to hopefully get a Christmas card each year.
Not that it was a news flash by any means, but the special also touched on the fact that the Housewives like to talk and act and dress a little dirty some times.  From NeNe's stripper days to Kandi's instructions for sugar coating your HooHa, we were all reminded again why the kids need to go to bed before the show starts next week.  Thankfully Panasonic has not completely mastered Smell-o-Vision TV yet.
NeNe sez "Girl, you nasty."
And now we just sit at home like Sheree and Phaedra, and wait for the new season of ATL to begin.  I don't know about you, but I've got my snacks all ready.
Hold on to your wigs.  The Real Housewives of Atlanta is about to get all up in yo' face again.
Bloop!