Pope Francis (real name Jorge Bergoglio) is fawned over by the Left, including the homosexual magazine The Advocate and the creature who calls herself Madonna.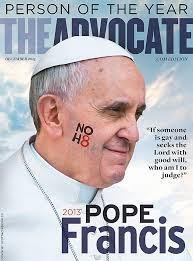 They say Bergoglio is good for the Catholic Church, calling it "The Francis Effect".
But if the Francis Effect is measured by actual empirical indicators instead of feel-good wishful thinking — such as conservative Catholics being alienated, the number of Mass attendees and of Catholics who go to Confession — then the real Francis Effect on the Church actually has been negative.
Below is an article by Sandro Magister for an Italian website Chiesa, containing a letter from a priest on the Francis Effect in Italy. The article was translated into English by Matthew Sherry, Ballwin, Missouri, U.S.A.
by Sandro Magister – Chiesa
ROME, January 9, 2016 – One thing that made the news at the end of the year was the data furnished by the prefecture of the pontifical household on attendance in 2015 at the public audiences with Pope Francis, with numbers down almost by half compared to the previous year:

At the Wednesday general audiences there was a drop from 1,199,000 visitors in 2014 to 704,100 in 2015. While for the Sunday Angelus the fall was from 3,040,000 to 1,585,000.

The official figures that ISTAT compiles every year in Italy on the daily life of a gigantic sampling of citizens, made up of almost 24,000 families, for a total of 54,000  individuals residing in 850 cities large and small.

In the most recent annual report made public, relative to 2014, the "percentage of persons over the age of 6 who go to a place of worship at least once a week" turned out to be 28.8 percent.

During the seven years of the pontificate of Benedict XVI, this same indicator was consistently above 30 percent in Italy, on average around 32-33 percent. Decisively higher than in 2014, the first full year of the pontificate of Francis and the one in which his popularity reached its peak.

The following letter takes these statistical indicators into account. But it evaluates the real "Francis effect" on religious life with the more up close and direct gaze of the pastor of souls, of the confessor. Who writes that during this pontificate he has experienced not only a further drop in the practice of sacramental confession, but also a deterioration in the "quality" of the confessions themselves. A deterioration that does not seem unrelated to the use of certain remarks of pope Jorge Mario Bergoglio that have had enormous success in the media.

The author of the letter is a churchman with a high level of scholarly specialization and with significant teaching appointments in Italy and abroad, but who also dedicates a great deal of time and energy to pastoral care.

His evaluations reflect those of a growing number of pastors, who – in a private capacity – do not fail to confide similar concerns to their respective bishops.

"Who are you to judge me?" The confessions of a confessor


Dear Magister,…

The facts are these. Since the opening of the Holy Year backed by Pope Francis and on the occasion of the Christmas festivities of 2015 – as also since Jorge Mario Bergoglio has been sitting on the throne of Peter – the number of faithful who approach the confessional has not increased, neither in ordinary time nor in festive. The trend of a progressive, rapid diminution of the frequency of sacramental reconciliation that has characterized recent decades has not stopped. On the contrary: the confessionals of my church have been largely deserted.

I have sought comfort for this bitter consideration by imagining that the basilicas connected to the Holy Year in Rome or in other cities, or the shrines and convents, have been able to attract a larger number of penitents. But a round of phone calls to some fellow priests who regularly hear confessions in these places (using the opportunity of the Christmas wishes that I extend every year) has confirmed my observation: lines of penitents that are anything but long, everywhere, even less than at the festivities of past years.

And there is also less and less news of memorable conversions of sheep lost for many years and returning to the sheepfold of the Good Shepherd through the "useless servants" of his mercy that we priests are. When this happens, very rarely, there is neither explicit nor implicit reference to the person or the word of the current pope more than there was in the past for his predecessors (how many young people came back from the World Youth Days and put into practice their resolution of frequent confession!).

Distrusting the value of the numbers, because even the salvation of one soul has an infinite value in the eyes of God, I reviewed the "quality" of the confessions I have heard and I asked – while respecting the secret of the confessional concerning the identity of the penitent – for news from a few fellow confessors of long experience. The picture that presents itself is certainly not a happy one, both concerning the awareness of sin and in reference to the awareness of the prerequisites for obtaining God's forgiveness (in this case as well, I know that the term "forgiveness" is giving way to "mercy" and is in danger of being mothballed soon, but at what theological, spiritual, and pastoral cost?).

Two examples stand for all. One middle-aged gentleman whom I asked, with discretion and delicacy, if he had repented of a repeated series of grave sins against the seventh commandment "do not steal," of which he had accused himself with a certain frivolity and almost joking about the circumstances, certainly not attenuating, that had accompanied them, responded to me with the words of Pope Francis: "Mercy knows no limits" and by showing surprise that I would remind him of the need for repentance and for the resolution to avoid falling back into the same sin in the future: "I did what I did. What I will do I will decide when I go from here. What I think about what I have done is a question between me and God. I am here only to have what everyone deserves at least at Christmas: to be able to receive communion at midnight!" And he concluded by paraphrasing the now archfamous expression of Pope Francis: "Who are you to judge me?"

One young lady, to whom I had proposed as an act of penance connected to the sacramental absolution of a grave sin against the fifth commandment "do not kill" that she kneel in prayer before the Most Holy Sacrament exposed on the altar of a church and perform an act of material charity toward a poor person to the extent of her means, responded to me with annoyance that "no one must ask for anything in exchange for God's mercy, because it is free," and that she had neither the time to stop at a church to pray (she had to "run around doing Christmas shopping downtown"), nor money to give to the poor ("who don't even need it that much, because they have more than we do").

It is evident that a certain message, at least as received from the pope and come down to the faithful, easily lends itself to being misunderstood, mistaken, and therefore of no help in the maturation of a sure and upright conscience in the faithful concerning their sins and the conditions of their remission in the sacrament of reconciliation. With all due respect to Msgr. Dario Viganò, prefect of the secretariat for communication of the Holy See, the "zigzag course" through concepts without ever pausing to clarify any of them – which he recognizes as a gem of the "communication style of Pope Francis," capable of "making him so irresistible" to the modern listener – presents a few spiritual and pastoral inconveniences, far from trivial if they have to do with grace and the sacraments, the treasury of the Church.

Thank you for your attention and many cordial greetings, "ad maiorem Dei gloriam."

[Signature]
---
See also:
Pope Francis calls abortion activist a 'great' woman

Award-winning biologist says Pope Francis gave his blessing to animal-human hybrids

Pope Francis is ashamed of the Cross, knows better than the Gospels

Pope Francis' Vatican put on a pagan light show on the feast day of Our Lady's Immaculate Conception

Despotism: Bishop adviser to Pope Francis claims papal infallibility over climate change

Pope Francis calls for a new global authority to combat 'climate change'

Catholic Church under Pope Francis: Critics censored, threatened with excommunication

The Illegitimate Pope: Election of Jorge Bergoglio as Pope Francis was contaminated by lobbying in violation of papal laws
~Eowyn