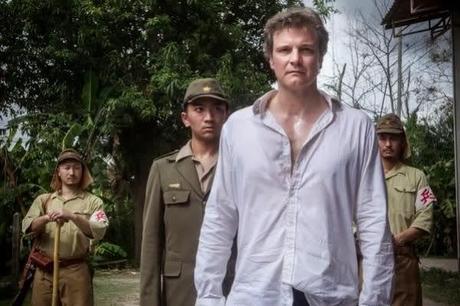 Jonathan Teplitzky's The Railway Man (2013) mixes powerful moments with clunky storytelling. Based on Eric Lomax's memoir of wartime suffering and atonement, it's an uneven show that never feels the sum of its parts.
Eric Lomax (Colin Firth) is a mild-mannered, middle-aged "railway enthusiast" who charms Patti (Nicole Kidman) with his knowledge. The two marry but Eric starts suffering flashbacks. Disturbed, Patti turns to Eric's colleague Findlay (Stellan Skarsgard), who relates Eric's backstory: captured in the 1942 surrender of Singapore, young Lomax (Jeremy Irvine) worked on Japan's Burma-Siam Railway, suffering horrible treatment. But Findlay approaches Lomax himself, showing that his old Japanese tormentor (Tanroh Ishida/Hiroyuki Sanada) runs a museum in Burma. Unable to confront his demons, Lomax contemplates revenge.
Japan's "Railway of Death" remains a monument to Japanese cruelty, with nearly a quarter million British and native prisoners conscripted to build it - and 102,000 dying. Railway Man is a far cry from David Lean's sanitized Bridge on the River Kwai or the oddly stylized Merry Christmas Mr. Lawrence. Japanese captivity is a parade of wanton cruelty; Lomax and others are subjected to savage beatings, torture, starvation and "enhanced interrogation." Building a radio becomes a capital punishment. For all the films addressing the subject, few more than hint at such savagery.
The war scenes are solid but other elements are shaky. The first half-hour develops Eric and Patti's romance, but the story abandons it: Patti watches helplessly as Lomax puzzles out his revenge. And the script, by Frank Cottrell Boyce and Andy Paterson, skews clunky or portentous: British troops at Singapore muse "we've just witnessed the fall of the British Empire" watching the Japanese lower the Union Jack. Though The Railway Man often stumbles, it redeems much with a class finale; the protagonists' mutual experience proves stronger than lingering hatred.
Colin Firth plays with a fine mixture of subdued charm and scarce-restrained angst. Nicole Kidman sells her scenes with conviction, though she's ultimately little more than a shoulder for Firth to cry on. Stellan Skarsgard steals his early scenes and Hiroyuki Sanada makes an impression with brief screen time. Jeremy Irvine (War Horse) does a respectable Firth imitation; Tanroh Ishida makes an intense villain.
The Railway Man is a competent, sober drama. That doesn't detract from its good performances or powerful ending, but the whole feels underwhelming.