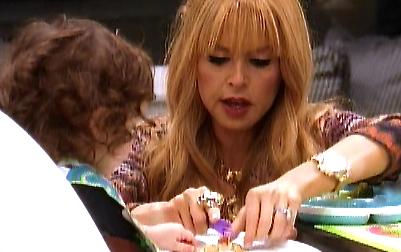 OhMyGod. If you cut your green beans on the bias they literally look like little quilted Chanel clutch bags.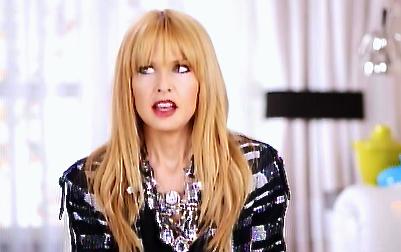 OhMyGod. With all of Rodger's whining, I think I might have just put the diaper on the wrong baby.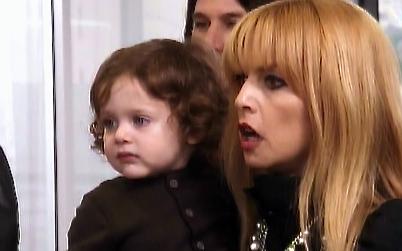 OhMyGod. Put me down. Put me down. Put me down. That fabulous vintage dress is giving me a maj gas bubble.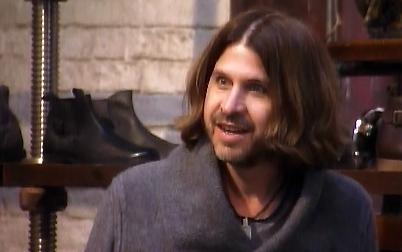 OhMyGod. I know, right? Who knew that sweaters with shawl collars work better than roofies?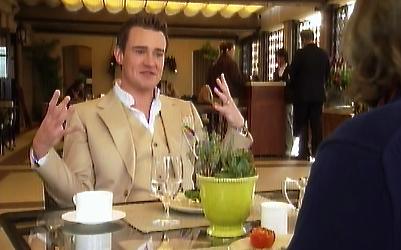 OhMyGod. I'm not gonna lie. That scarf is literally making me shwiiing a little.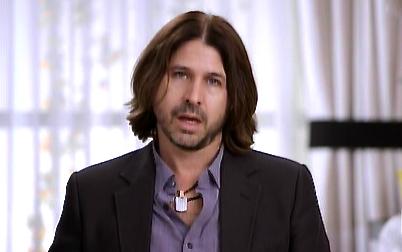 OhMyGod. You wish.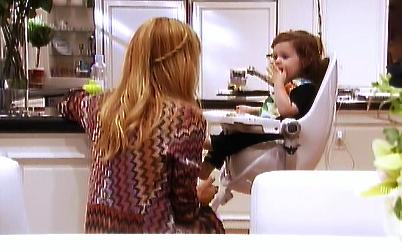 The Stylist On The Bus goes…OhMyGod. OhMyGod. OhMyGod!
Shoes.  Handbags.  Babies.
Literally, you can never have enough of them.
One or two for every outfit.  In every color, please.
At least when it comes to the accessories.
Babies are a little more like brown shoes.  They go with everything.
The Rachel Zoe Project was nothing but handbag hardware clicking and biological clock ticking this week as Rachel & Rodger debated whether or not the world was ready for another SuperPregnancy and the resulting Fashion Spawn.
Now that little Goy Sky Sky Morrison Berman was almost old enough to pick out his own polished amber crystal necklace and Burberry onesie every morning, the pressure was starting to mount on Rachel to design and create both a Fall line for QVC and a new baby sister for the Prince.
Her husband, friends and Whacky Gay Sidekick all thought it might be time to go into production.  Her in-house staff of ZoeCo pseudo-babysitter/styling assistants also felt it was time.  Even the Starbuck's barista probably mentioned it once in awhile…Rachel's certainly in their enough for someone to start a conversation.
Honestly, the only person who probably thought otherwise was whoever the poor security guy for that office building is who has to stop what he's doing every day and go find Sky Sky after the little diva pushes his way through a rack of Oscar de la Renta and disappears out a fire door.
Seriously.  If you're going to continue to let a kid roam unmonitored throughout your offices during working hours while everyone else is focused on oggling prototypes, either install a GPS in his diaper or hang a Life Alert beeper on that girly choker he's always wearing.  Don't make me call Child Services.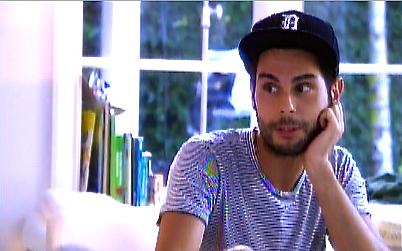 My man Joey Maalouf was the first person to suggest to Rachel that maybe it was time to hatch another Fabergé egg.
Let's just cut to the chase on this scene and mention that one of my pet peeves in television editing is when they cut and splice one scene into multiple episodes and spend an entire season trying to fake us out into believing that it's a new day every time you see Joey and his baseball cap sitting at the kitchen table flipping through last year's Vogue.  Nice try, Bravo.
But it's Joey, so you get a pass.
Unfortunately, it's the 2013 model Joey, who isn't really allowed to do much on screen anymore.  I miss the old Joey who would get all diva hissy pissy on Sad Sack  Jeremiah Brent or get nervous pee every time  Brad Goreski showed him what Anne Hathaway was wearing to the Oscars.  Oh, those were good times.
That's also what has led to some less than stellar feedback on this season by other websites, but I'll leave all that to the legitimate reviewers.  I'm just here to talk about Joey's hair and ask if anyone knows why he scratches the left side of his face so much.
The only real point of this scene was to once again allow Nanny Rusty and Sky Sky to emerge from the blinding light of the back kitchen door like that Poltergeist kid did when she got sucked in and out of the bedroom closet.
Seriously.  Did you see Sky Sky's entrance?  I am willing to bet money that Rachel has a fog machine back there somewhere.  Every time they come through that door it gets even more blindingly maj.  Right before they cut to commercial I'm pretty sure that Celine Dione came out with one of the Cirque du Soleil clowns.
After everyone fawned over Sky Sky like he was the Lion King baby, it was off to the office for Handbag Prototype Day.  Which is like Shoe Prototype Day, but obviously no where near as cool.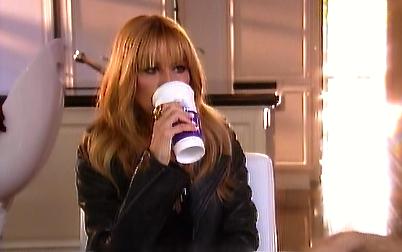 Because I'm good like dat, even before I knew it was HPDay I could tell it had something to do with accessories because Elizabeth from the Handbag Team totally looked like she made jewelry at home on her day off.  Oversized shirt, buzz cut hair and big artsy glasses.  I love people who make their own soap.
The whole thing was like a Lego Toy Convention at The Hamptons, with all these fancy pants sitting around adding this latch to that flap in an attempt at creating a bag or rocket ship that the world has never seen before.
Those purses were EVERYthing.  I swear.
Even Rodger got into the game when he showed up carrying his own ManPurse, which clearly did not go with his outfit.
I just can't.  And neither could Rachel.
Which I guess explained why she immediately put in a call to Joey on the BatPhone and then dragged Rodger out the front door for an emergency retail makeover.
Everyone to AllSaints Spitalfields.  Stat.
After what amounted to a virtual tour of the retailer's new flagship location (…"OhMyGod…how cute is this?"…) we learned that Rodger loves to mope and sulk but hates to go shopping, and that shawl collar sweaters make Rachel horny.
For realz.
And since Rodger really wants another kid asap, we might as well get used to seeing him in a lot of shawl collars this year.
With one fashion crisis under control, it was back to the office for a quick phone call with Glamour Magazine.  They were planning a photo shoot on The New Bohemian story, which looks a lot like The Old Bohemian story if anyone is asking, and that was right up Rachel's alley.  It's her thang, so I felt some long skirts and floppy hats coming on soon.
But not before Rodger's ManDate with BFF William Banks-Blaney.  Love.  Him.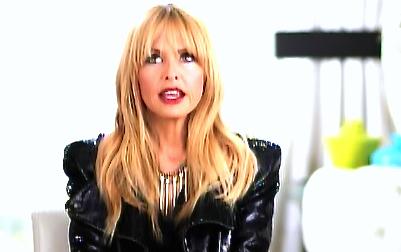 OhMyGod.  William.  The King of Vintage.  And Hoarder of Scarves and Shoes.  Dude is so Britishly fabulous that it almost made me book a flight across the pond just so I could slap the Queen before afternoon tea.
He loooooved Rodger's scarf.  And of all days to not wear one of his own.  He felt positively naked.
From what I can tell, William basically travels the world with a steamer trunk full of his own shoes, scarves and a collapsible rolling rack, sniffing out the most amazeballs vintage couture he can find, which he then drags to Rachel's office where she pretty much drops her own child on his head so she can have both arms free to fondle the goods.
Because that's what happened.
After almost losing her nutty the second William rolled in, Rachel dove head first into the rack of clothing and basically OhMyGod'd herself into an asthma attack.
By the time William unveiled the pièce de résitance…a sparkly, glittery, crystallized, over the top gown that I vaguely remember Cher wearing before she ripped it off to reveal a Bob Mackie thong underneath…Rachel was on an inhaler.
OhMyGod.  EVERYthing.  If you know anyone at Buckingham Palace, now would be a good time to wake the Queen.
I really need to start hyphenating my last name.
The next day, as Styling Associate Eileen began a Bohemian Scavenger Hunt through the retail jungle, Rachel and Rodger headed to New York City to…finally…view the completed DreamDry Blow Dry Bar.
The only real point of this scene was to show how cranky the two of them are when they have to get up at a normal hour like the rest of us in the Real World, and show that Rodger still dresses in too many layers for an indoor event.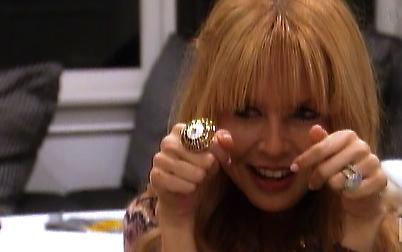 He was too hot.  Too cold.  Sweating.  OhMyGod.  Dying.  Literally dying.  Sweating under his scarf, jacket, new shawl collar sweater, button down shirt, layering tee and CK undershirt.  Not to mention those 15 extra pounds that Rachel keeps harping about.
Go figure.  Take off a few layers or hit the treadmill, Dude.  Standing in the middle of your new DreamDry venture ain't the time to go through Manopawz.
At some point after his hot flash, they found their way back to the limo to call little Sky Sky on his Fisher Price iPhone.  Why, you ask?
Get this:  Because Rachel had forgotten to tell Rusty what outfit the little Goy was supposed to wear that day.
I swear.
Apparently, just because you have the papers to prove you can care for a child and feed a child and entertain a child and perform CPR on a child when he swallows one of the stones from his amber necklace, it doesn't mean you are qualified to match a sweater to his pants.  Even if you know the difference between this season's Gucci and last.
Ain't happening.  So Rachel to the rescue.
Yet another fashion crisis resolved.
The rest of the episode was basically all Bohemian Chic and Baby Talk.
Glamour's photo shoot got off to a slow start thanks to morning fog and the fact that, once again, Rachel was running late.  She blamed it on the LA Freeway and never knowing her way around and blah blah blah which I found kind of odd, because unless William also gave her a European car with the steering wheel on the wrong side, she wasn't the one driving to the shoot.
I swear this show would only be 30 minutes long if she bought a watch.
Also, the irony of Rachel standing in a dark trailer, wearing her dark googly sunglasses, looking out into dark pea soup fog while complaining that she could barely see anything shouldn't have been lost on anyone.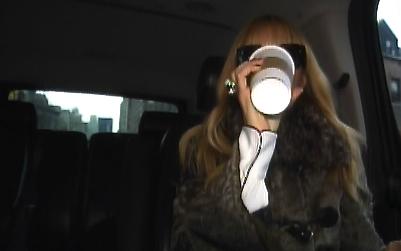 I'll never understand fancy people.
The sun finally broke through the clouds and the shoot was a success.  Long skirts and floppy hats.  What'd I tell you?
It ran a little long, but that was mostly due to Rachel trying on all the clothes first and then shutting down the entire production to have Mr. Hair Guy trim her new bangs.
Mama don't pay for haircuts.  Please.
With the photos in the can and her bangs all freshly laid like Farrah Fawcett, it was time to go home and spend the evening with the ZoeFam.
Kind of a Normal Rockwell moment.  If you really squinted.
Rodger wants another child.  Rachel doesn't know what she wants.  She loves little Sky Sky but doesn't know if she can do it all with a second baby strapped across her chest inside a Chanel papoose.  Not to mention that if her ankles swell up again she can't wear her 6 inch tall wedgie boots.  And they're fabulous.
And then it was Night Night for Sky Sky.  Rachel sang us out with a stirring rendition of The Wheels On The Bus as Sky Sky wiggled around in the same high-tech highchair pod that Jor-El used to send Superman to Earth.
Wait.
Now that you mention it…
The letter "S" is just a backwards "Z."
You don't think…?  Could it…?
Sleep tight, little Sky Sky.  Metropolis needs a hero.
And a makeover.