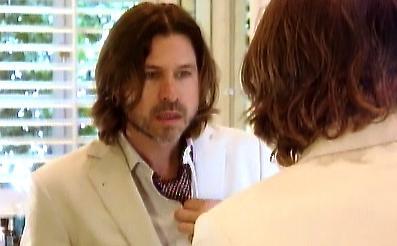 OhMyGod. I would literally do me right here on the floor if this wasn't slubbed linen and silk.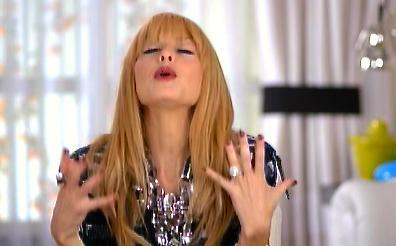 OhMyGod. Just pick a damn ascot before my bangs grow out.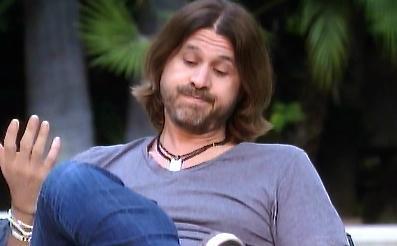 OhMyGod. Live in NYC? This hair? That humidity? Ain't gonna happen.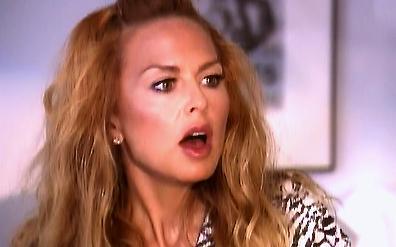 OhMyGod. I literally just woke up and my bangs were gone. I can't comprehend what just happened.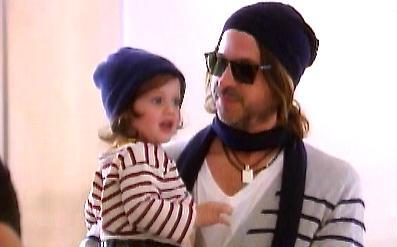 OhMyGod. Who even knew there was such a thing as Take Where's Waldo to Work Day? It's maj.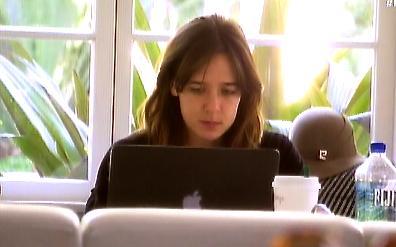 OhMyGod. Dear Diary: Today the one with the f***d up hair couldn't even turn on a toaster oven.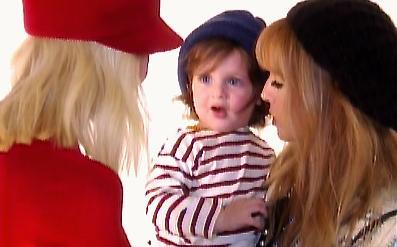 OhMyGod. That bitch's red hat. With this onesie it would be everything. I need it on my head right now. I literally just pooped a little.
OhMyGod.
I can't.
Who knew that jet lag could make you feel so…I don't know…jet lagged?
I mean.  Really.  How anyone could expect one person to show a Spring collection during Paris Fashion Week, literally almost die a few times while air kissing her way around the City of Love in awkwardly inappropriate platform shoebooties and then come straight back home to California and immediately start prepping for a new Fall season without a maj meltdown can only be described in one word.
Actually…make that two words:  In.  Sane.
No wonder Rachel Zoe and Fraggle Haired Rodger were such a hot mess at the start of this week's The Rachel Zoe Project.
Fresh from the Paris runway, Rach and Rodg were back home at the Zoe Mothership attempting to not only dress themselves and little nugget SkySky for a celebrity polo match, but to also snag any other wardrobe challenged starships in their tractor beam and drag them down for a makeover.
Since Rachel can't watch someone not getting dressed well (…from her mouth to God's ear…) she has unintentionally (…or not…) created a subculture of Zoebots who are no longer capable of tying their own shoes without her blessing.
Exhibit A:  Rodger.
Picture trying to get a 5 year old ready for kindergarten recess, in the middle of the winter, in a snowstorm, during a power failure, blindfolded, tanked up on cold meds with one mitten missing from the mitten clip string.  And someone has to go the bathroom halfway through the process.
It was like that.  Except it was summer polo clothes.  And hats.  And more silk ascots than Thurston Howell III had packed for a three hour Gilligan tour.  Who knew there were so many ways to knot a knot?
Since Baron Von Zoenstein had created this Monster in her lab, she couldn't really fault Rodger for not being able to dress himself anymore, but the dude was really holding up progress.  And you don't want to keep polo horses and paparazzi waiting.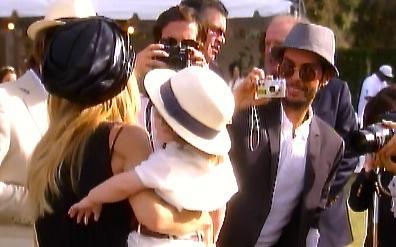 Babe?  Babe?  What about this one?  Or this one?  Or this one and that one?  Rodger was totally stressing out Rachel, and causing makeup boy Joey Maalouf to fall back into that nervous tic thing he always does where he stops blinking and scratches at the left side of his jaw until all the Ryan Gosling stubble is gone.
Everyone who was anyone, including Joey who was freakin' finally back with a vengeance and allowed to speak on camera this week, was headed to the celebrity filled Veuve Clicquot Polo Classic.
I know, right?
Just saying it out loud I already sound as pretentious as everyone around me says I am.
Seriously.  Where is The Help?  My cocktail needs a refresh.
As Rodger tried every Garanimal hat and neckwear combination he could recall from the Ralph Lauren commercial, Rachel got little Goy SkySky dressed with one hand while tweaking Joey's ensemble with the other.  A couple of rolled cuffs and some hats, and they were finally out the door.  Late.  But out the door.
Fashion Spoiler Alert:  Late is the New Black.
Think of the trip to the Veuve Clicquot Polo Classic (…now I can't stop saying it…) as the next stop on the 2013 Rachel Zoe: New Bangs/New Baby Tour and you pretty much know how the whole thing went down.
OhMYGod.  Your hair.  Your baby.  I'm dying.
After posing and petting some horses, Rachel headed back home for a quick germaphobic scrub down and and then a pre-Fall meeting with her Design Director, Michael.
How much did we love Michael?
Since we just met him I can't speak for his design skills per se, even though he was wearing a very nice blazer.  But I will go on record as stating that Dude rocks a 1970′s porn 'stache like a Boss.
Oh.  My.  Bow.  Chick.  A.  Bow.  Wow.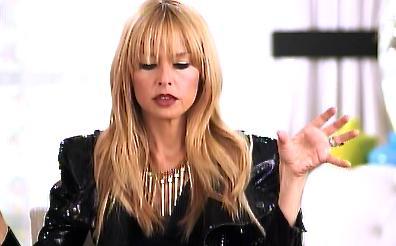 I didn't think people from New York City still wore those bad boys.  At least not within a one mile radius of an elementary school as directed by a court order.  Watch him when he peers over his Starbucks cup and takes a long, slow slurp like you do when the cable guy shows up at your door to fix the television when it's not even broken.
Michael and Rachel talked about the direction of the Fall line or something.  I don't know.  All I could hear was an electric guitar riff and the sound of quarters being dropped into one of those peep show machines.  And then my shoes stuck to the floor.
Seriously.  Where is The Help?  My hand sanitizer needs a refresh.
After flashing our overcoats to the '70s, it was back one more decade to the '60s as Rachel met up with InStyle Magazine's Ariel Foxman.  Late, of course.
(The New Black and all…)
Ariel wanted Rachel for a story.  He wanted her Back in da Book, as they say.  And Rachel wanted to do '60s Mod.  Cuz that's her thang, groovy guys and gals.
So they set up a photo shoot with actress Jaime King, who is in Hart of Dixie and a bunch of other Netflix movies.  She's a looker, and perfect for some '60s Mod Love.
I liked Ariel.  He had those kind of easily excitable eyeballs that always make a person look like they are actually sincerely interested in what you are saying.  He also must have some seriously magical moisturizer in his medicine cabinet, because he left all his face wrinkles at home.  What's your secret, FoxMan?  Sitting at this laptop is making me squint way too much lately.
If there's one thing that The Rachel Zoe Project will be remembered for 100 years from now, besides all the Zoe-isms and hate mail from Brad Goreski, it will be the insignificant filler fluff that they always throw in to each episode.  I mean…do you really want to sit through a solid hour of Rachel matching Anne Hathaway's Oscar shoes to her clutch?  Didn't think so.
This week was exceptionally fluffy, since they apparently shot the wardrobe wad last week in Paris and needed to catch their breath.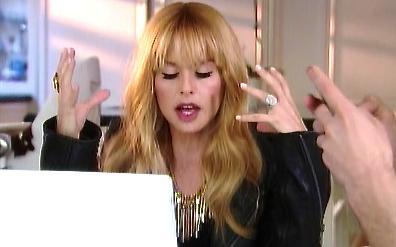 But it was Classic RZ fluff.
Rodger couldn't work the toaster oven.  Which by itself would not be such a big dealio, especially considering that it's Rodger.  If you can't even dress yourself, chances are pretty slim you'll end up working in the Small Appliances Department at Best Buy anytime soon.  Plus, they don't let you wear your breakfast beanie on the sales floor.
In the midst of all the hilarity, the 11 seconds that the camera guy wasn't paying attention to Rodger and let the lens shift over to Collection Associate Kelsey sitting at the kitchen table on her laptop was enough to make the scene time capsule-worthy.
Everyone knows how much I love me some Kelsey.  She is so vaguely expressionless that I could look at her all day.  You know that she probably has the driest, slit throatiest, most slap stick sense of humor under all that Nothing, but she is always in complete emotional lockdown during working hours.
I call it the Just Shoot Me Face.  Or the Zoembie, which is a pretty HIGHlarious word that I just made up on the spot.
Like a Zombie Apocalypse.  Except it's Rachel Zoe Zoembies.  See what I just did there?
Four years of college, people.
You have no idea how badly I wish I was tech savvy enough to hack into Kelsey's laptop to see if she was writing a suicide note or simply working on her resume.
Love.  Her.  She's.  Maj.
But before Kelsey could finish her Last Will & Testament, porn guy Michael showed up at the door to take Rachel on a mustache ride to the Resurrection vintage boutique.
Did someone say Shopping?  Pardon me while I have an Out of Body Moment.
Between that mustache and Rachel's obsession with vintage, I really thought the two of them would both have to go out behind the store and have a cigarette while the cash register was printing out the Amex receipt.
It was intense.  I might need a minute to spritz and gather my thoughts as well.
The RZ FlufferNutter Xpress continued its ride with Joey on his iPhone, texting and taking photos of Rachel while she was on speakerphone.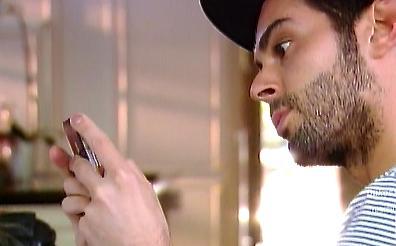 That was pretty much it.  That, and Joey was wearing a Back-to-School outfit if I'm not mistaken.  The World's oldest 4th grader.  I can't get enough of this guy, even on a slow news day.
Then we took a break so Brad 2.0 Eileen could go on a scavenger hunt for groovy '60s Mod stuff.  She's the newbie of the group, and pretty low key compared to past Stylists.
And I'm not sure why she never completely combs her hair.
I know that Rachel keeps you cray cray busy, honey, but you're walking into a Neil Lane jewelry store.  You might wanna dial down some of those fly aways before you ask for a $98,000 Peace Sign loaner.
Back at the office, Rachel and her team were reviewing the Fall Prototype Samples.
Those are the samples that are kinda sorta what the new line will look like, but they may be missing some detailing or have an unnecessary third sleeve or something.  But not to worry.  It's a work in progress.
Having my girl Kelsey model the samples was pretty much a gift from the Reality Gods.
When you combine poorly fitted leather pants that looked like those PVC wraps you put around leaky basement water pipes bagging all down around her naughty bits and then you go and add a two-sizes-too-big sweater and that Just Shoot Me Face….well…
Ladies & Gentlemen…we have a winner.
When Rachel pointed out that what they were doing right there in the office was more important than anything to her, I started to wonder if she tends to forget about SkySky unless he's let loose in the building.  Maybe that Nanny should drop by a little more often.  Just saying.
Then it was time to get groovy.
The InStyle photo shoot was everything.  Literally.  Everything.
Rachel could not have loved the outfits more.  Eileen and her messy hair did a great job pulling merchandise and jewelry from the vendors.  And Jaime King looked totally hot potatoes.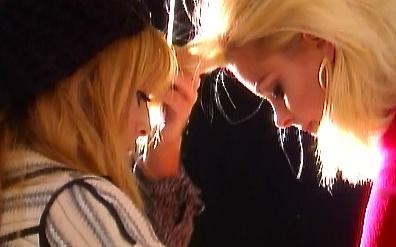 I was especially fond of that one assistant who had to have her face blurred out every time she was on camera.  Witness Protection Program?  Is Jaime King harboring federally protected snitches?  I watch Mob Wives.  I know how they roll.
In the middle of the Laugh-In Love-In, Rodger and Mini-Rodger showed up in matching beanies and striped shirts and everyone basically went SkySkySpaz.
Memo to Self:  Start wearing more slightly askew beanies.  They're not just for breakfast anymore.
Somehow Rachel actually dreamed a Louis Vuitton piece into a FedEx box and it showed up just in time for the photo shoot.  I swear.  She even said it.
And speaking of wet dreams…
Michael was back for one more office visit so he and Rachel could go over fabric swatches and make some final decisions on the new line.
Turns out that Rachel is allergic to Pink.  The color.  Not the singer.  So it took a lot of smooth talk for Michael to get something other than black and white into the line.  He figured out fairly quickly that if you call it something other than "pink" Rachel will like it, even though it's basically still the same color.  Whatever sells the goods, people.
Pile it High.  Watch it Fly.  That's what we used to say in retail.  Sell-through.  You can use it at your next Design Meeting, Rachel.  No charge.
Michael finished being creepily faboo and then headed back to New York City to wax his 'stache.  So to speak.
And Rachel was totz jealz.  She wanted an apartment in NYC, too.  That way she could spend more time with her family and less time actually traveling back and forth between the West and East coasts.  And be closer to Bloomingdale's.  Duh.
But Rodger said No.
So naturally, next week they'll be looking at apartments in NYC.
Babe.  If you're not gonna use those, cut 'em off and put them back in the closet.
OhMyGod.  That was so the opposite of complimentary.
Literally.