2 Flares
2 Flares
×
New to little Indiana? Subscribe for free to my RSS feed. Thanks for stopping by!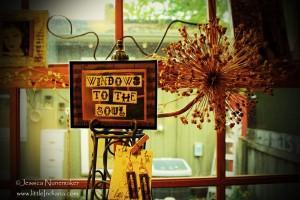 The Purple Fig: Nashville, Indiana
You can't  miss The Purple Fig in Nashville, Indiana–the outside fairly screams "creative artist at work!"
Located in Antique Alley, this is one section of this Indiana town you won't want to miss.
Nashville, Indiana: The Purple Fig
One look at the inside and you'll be in artsy heaven! From floor to ceiling there is so much to look at, admire, and covet!
Artist and owner Aimee Summitt has a way with materials. Fibers, beads–even dehydrated fruit and Crinoid fossils make their way into lovely items.
Yes, the owner of The Purple Plum has found a way to use those Crinoid fossils, you may know them as Indian beads, to make bracelets, earrings, and even necklaces. All decked out in lovely shades, they are fabulous!
Indiana Art Studio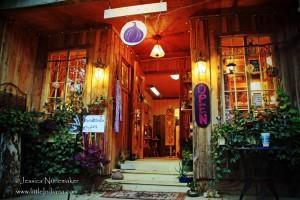 The Purple Fig: Nashville, Indiana
It's such a neat space! Mixed-media wall hangings and paintings bathe the warm wood walls in vibrant colors.
Our boys were really taken with her studio. Kid #2 wanted to rearrange her clever magnets while Kid #1 was intrigued by the Crinoid Fossils on display as wearable art! They really liked this small town shop.
Although many of the items up for sale are created by Aimee, she does have a few selections from other local artists. All this variety will make you proud to be a Hoosier!
Go There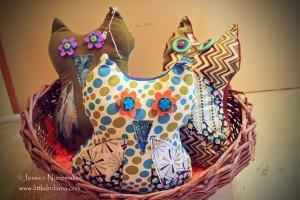 The Purple Fig: Nashville, Indiana
See a true artist at work in her homey little shop, The Purple Fig.
This is what Brown County, and Nashville, Indiana in particular, is all about–local artists at work doing what they do best!
Find pictures in Indiana on my Flickr photostream or on the new little Indiana Tumblr blog.
Just don't forget to tell 'em that  little Indiana sent you!
The Purple Fig
92 Franklin Street
Nashville, Indiana 47448
812.988.0934

View Larger Map
Don't miss a moment. Subscribe to little Indiana and receive instant updates to stay on top of everything "little."
little Indiana: Where to Stay, Play, and Eat in Small Towns in Indiana. Discovering Indiana's best small towns! Now get little Indiana on your Kindle.
Targeted. Relevant. Affordable! little Indiana advertising.