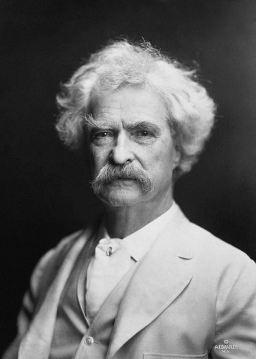 Samuel Langhorne Clemens was born on this day, November 30th, 1835 and was better known by his pen name, Mark Twain.  He is most noted for his novels, The Adventures of Tom Sawyer (1876), and its sequel, Adventures of Huckleberry Finn (1885), the latter often called "the Great American Novel."
Clemens was born two weeks after the closest approach to Earth of Halley's Comet.
Hi father, John, died of pneumonia was he was 11.  The next year, he became a printer's apprentice.  In 1851, he began working as a typesetter and contributor of articles and humorous sketches for the Hannibal Journal, a newspaper owned by his brother Orion.
When he was 18, he left Hannibal and worked as a printer in New York City, Philadelphia, St. Louis, and Cincinnati.  He  educated himself in public libraries in the evenings, finding wider information than at a conventional school.  He returned to Missouri when he was 22.
On a voyage to New Orleans down the Mississippi, steamboat pilot Horace E. Bixby inspired Twain to become a pilot himself.   A steamboat pilot needed to know the ever-changing river to be able to stop at the hundreds of ports and wood-lots.  Twain studied 2,000 miles of the Mississippi for more than two years before he received his steamboat pilot license in 1859.
While training, Samuel convinced his younger brother Henry to work with him.  Soon afterward Twain had a vivid dream while staying at his sister's house.  In it saw his brother's body lying in a metal casket.  It rested on two chairs in his sister's sitting room and had a white bouquet with a single red rose sitting on Henry's chest.  Twain awoke.  So intense was his excitement that he hustled out the door and walked a full block from this sister's house before he could reason with himself that it was just a dream.  He returned to his sister's house.
"What's the trouble?" his sister asked him.  "Where were you going?"
"To see if Henry was dead." he replied.  "I had a vision last night.  It was so unlike any I have experienced before.  I thought it must be so."
"Sit down, tell me about it," his sister said.
He recounted the dream to her.
A few weeks later, on June 21, 1858, Twain and Henry were returning from New Orleans on separate riverboats.  The steamboat Pennsylvania, which Henry was aboard, had a boiler explosion.  Henry was brought to Memphis where he died a few days later.   Whereas most of the dead were placed in wooden coffins, the women of Memphis raised enough money to place Henry's body in a metal coffin.
When Twain went to his sister's house, he found his brother lying just the way he had foreseen in his dream, except there were no flowers.  As he stood there, a woman walked up beside him and placed a bouquet of white flowers on Henry's chest.  In its center was a single red rose.
Twain was guilt-stricken for the rest of his life.  He held himself responsible for his brother's death.  He must have felt there was someway he could have prevented it.

This experience inspired his interest in parapsychology and he later joined the Society for Psychical Research.
He later failed as a gold miner, in Nevada, and turned to journalism next.  While a reporter, he wrote a humorous story, The Celebrated Jumping Frog of Calaveras County, which became very popular and brought nationwide attention.  His travelogues were also well-received.   Twain had found his calling.
Between 1896 and 1909 he lost his two of his three daughters, Susy and Jean, his beloved wife, Olivia, and his good friend Henry Rogers.  He entered a period of deep depression.
In 1909, Twain is quoted as saying:
"I came in with Halley's Comet in 1835.  It is coming again next year, and I expect to go out with it.  It will be the greatest disappointment of my life if I don't go out with Halley's Comet.  The Almighty has said, no doubt: Now here are these two unaccountable freaks; they came in together, they must go out together."
His prediction was accurate.  He died of a heart attack on April 21, 1910, in Redding, Connecticut, one day after the comet's closest approach to Earth.