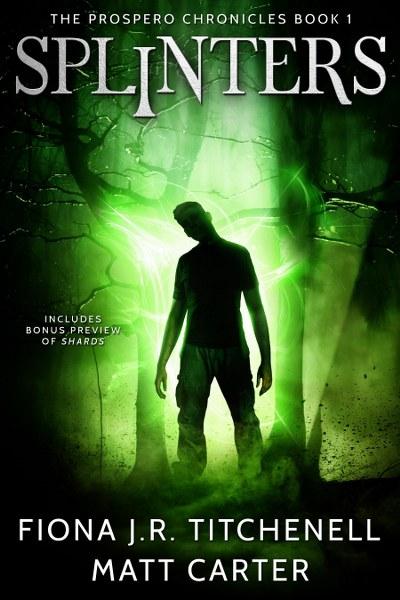 Splinters
The Prospero Chronicles Book 1
by Fiona J.R. Titchenell & Matt Carter
Genre: YA Horror, SciFi

Under normal circumstances, Ben and Mina would never have had reason to
speak to each other. He's an easy-going people person with a
healthy skepticism about the paranormal; she's a dangerously
obsessive monster-hunter with a crippling fear of betrayal. But the
small Northern California town of Prospero, with its rich history of
cryptid sightings, miracles, and mysterious disappearances, has no
normal circumstances to offer.When Ben's missing childhood friend, Haley Perkins, stumbles out of
Prospero's surrounding woods and right into her own funeral, Ben
and Mina are forced to work together to uncover what happened to her.
Different as they are, their unlikely friendship may be the only
thing that can save the town, and possibly the world, from its
insidious invaders.

"

A snapping, crackling, popping homage to classic horror."

—Kirkus Reviews.

"

Whip-smart
dialogue... genuinely terrifying Splinters, the descriptions of which
will have fans of monster films utterly enthralled... A promising
series opener, this will satisfy those readers who like their scary
stories to be as clever as they are chilling." —KQG, the
Bulletin of The Center for Children's Books.

"

The stakes are high. The action is intense." —Washington
Independent Review of Books.**only 99 cents!!**Add to GoodreadsAmazon * Apple * B&N * Google * Kobo * Smashwords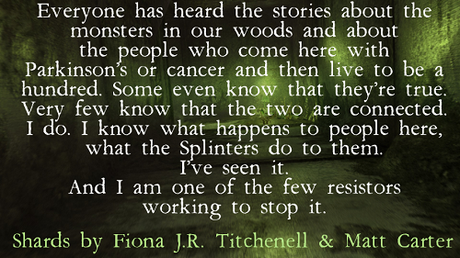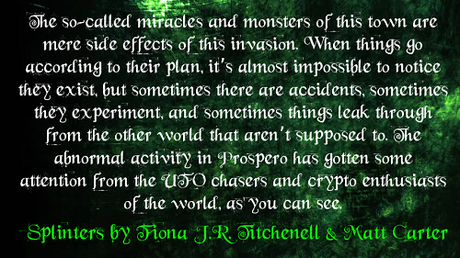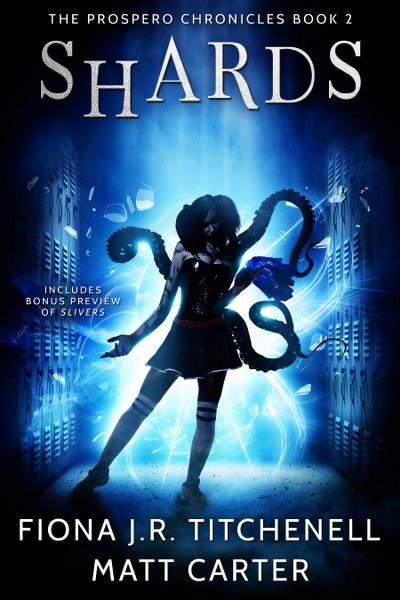 Shards
The Prospero Chronicles Book 2

When autumn descends on Prospero, California, Ben hopes the normality of
the new school year may offer a reprieve from the town's paranormal
horrors. Mina knows all too well that there are no reprieves and no
normality to be had in Prospero, but even she can't prepare for
what the coming year holds.On top of the vivid hallucinations that have plagued Mina since the
attack on the Warehouse, and the brewing Splinter civil war that
threatens all of humanity, inside the walls of Prospero High, Ben,
Mina, and their expanding Network face a vicious campaign to destroy
their friendship, and a mysterious assassin picking off human rebels
– an assassin with powers like no Splinter they've fought before.Ben and Mina's one hope rests with a mysterious old man hiding in the
woods outside of town; a living legend who may be able to teach them
how to fight this dangerous new breed of Splinter. That is, assuming
he doesn't kill the pair of them himself.

"

Titchenell and Carter hold nothing back in this solid sequel that thrills and
expands on its predecessor. Aided by swift writing, relatable
characters and unexpected scares, Shards is a chill-inducing
delight." —David Powers King, co-author of Woven.

"

Maintaining the same level of popcorn-munching fun, Titchenell and Carter are
taking The Prospero Chronicles in a promising direction." —Joe
Dell'Erb, Washington Independent Review of Books.Add to GoodreadsAmazon * Apple * B&N * Google * Kobo * Smashwords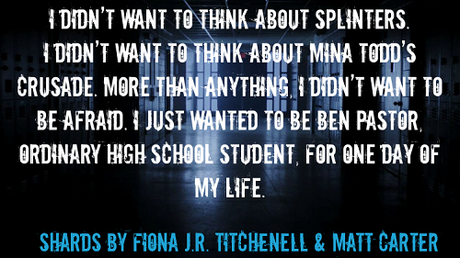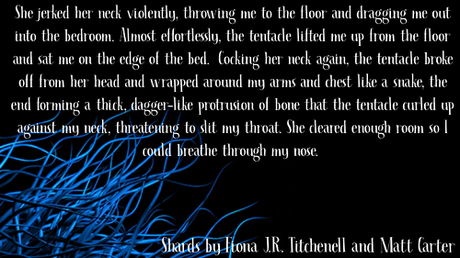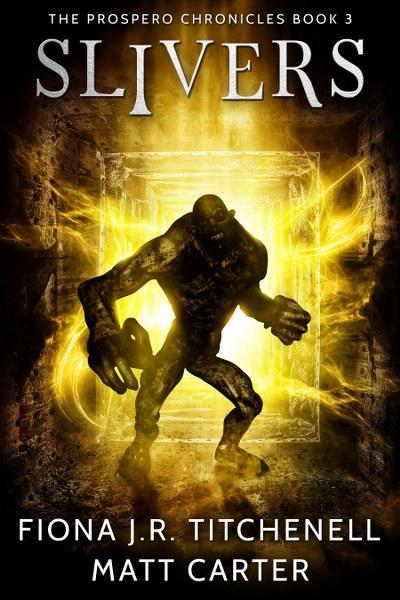 Slivers
The Prospero Chronicles Book 3

BenGrowing up is hard, and growing up in Prospero is even harder, but I think we
manage. I mean, yeah, my friends and I spend more of our time
fighting a race of shapeshifting aliens than we do hanging out, but
we have our fun. We go to parties, help each other with our classes,
maybe even fall in love…I've no illusions that we live ordinary lives, but they're our lives,
and I'm going to make sure we make the most of them whether the
Splinters want us to or not.
MinaThe truce is temporary. We will not humor the Splinters forever. It's
only until the Slivers can be stopped, until the army of Shards being
planted among our classmates can be disassembled, until we get our
hands on the thing I'd almost given up believing in.The humanity test.For the chance to know, once and for all, who can be trusted, some
dealings with monsters must be excusable. Inevitable. Just like this
feeling between Ben and me.And that has to be temporary too.Add to GoodreadsAmazon * Apple * B&N * Google * Kobo * Smashwords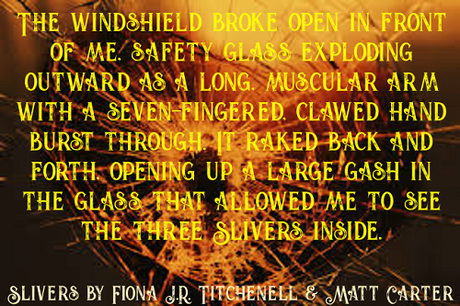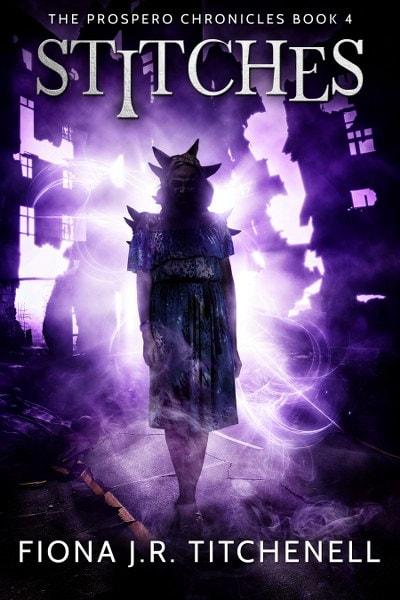 Stitches
The Prospero Chronicles Book 4
by Fiona J.R. Titchenell

This is Prospero's darkest hour. The few remaining humans trapped within
the quarantine zone are all but defenseless against the multiplying
forces of the Sliver Queen, Locusta. With Ben missing, Aldo among the
enemy ranks, and more steel plates than bones left in her body,
Mina's passing the hours drowning in morphine and throwing heavy
objects at her guards. Stripped of her weapons, her gadgets, and the Network itself, she has just one
card left, hidden somewhere under her oft-sutured skin. It might be
powerful enough to complete her life's work once and for all… or
to reach the one person who could make her life into more than a
means to an end. But playing it will cost everything she has, or
everything she believes in.The final chronicle of Prospero waits in these pages.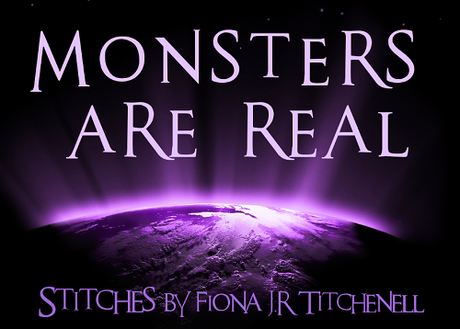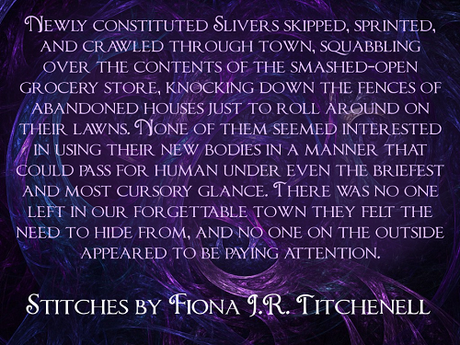 Add to Goodreads
Amazon * Apple * B&N * Google * Kobo * Smashwords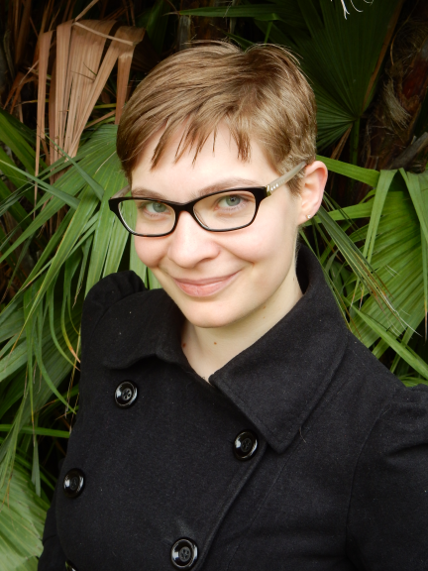 F.J.R. TITCHENELL
is an author of young adult, sci-fi, and horror fiction, including
Confessions of the Very First Zombie Slayer (That I Know of). She
graduated from Cal State University Los Angeles with a B. A. in
English in 2009 at the age of twenty. She currently lives in San
Gabriel, California, with her husband, coauthor, and amazing partner
in all things, Matt Carter, and their pet king snake, Mica.
Blog * Facebook * Twitter * Pinterest * Patreon * Goodreads

Follow the tour HERE
for exclusive excerpts, guest posts and a giveaway!


a Rafflecopter giveaway