Now that we are into July, gardens throughout the UK are full of ripening fruit and vegetables. This is the time when all the hard work done in the Spring begins to pay off!
I have already "banked" a couple of good harvests, in the form of Broad Beans and potatoes, but I have got lots more things coming on, and today I want to show off some of these future harvests in their immature form.
Lets start with the onions. I have seen several people posting and tweeting about harvesting onions, but mine are not ready yet. Some of those grown from sets are getting to a reasonable size now, but my highest hopes are resting on these:-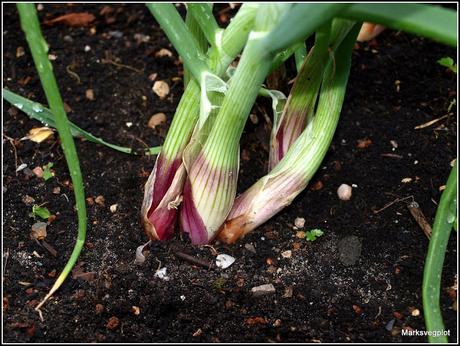 Long Red Florence
They are the ones I grew from seed. They are of a variety called "Long Red Florence". I planted them in clumps of 5 or 6 seedlings, planning to harvest them young, to be used as salad onions - somewhere between a Spring Onion and an "ordinary" mature brown onion. I think they look very promising, but they need a few more weeks to fill-out.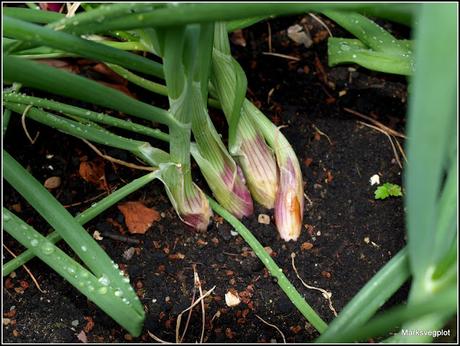 Long Red Florence
My solitary courgette plant has come into production now, and we ate its first fruit a few days ago, fried in olive oil, with garlic and tomato puree.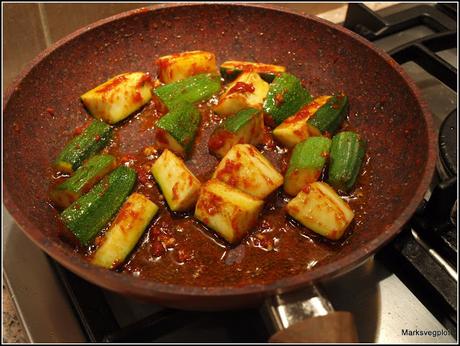 Sometimes a courgette plant takes a while to synchronise the production of male and female flowers, which of course are both needed for the formation of fertilised fruit, but mine has "got the hang of it" very rapidly.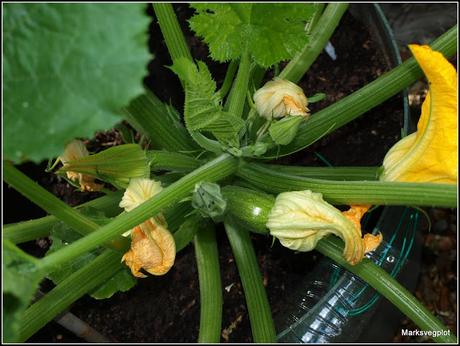 Courgette Defender F1
I haven't been able to harvest any cucumbers yet, though the first one is finally showing signs of development. When the dull-coloured spiny little fruit begins to develop a dark green color and smooth glossy surface you know it's on the way.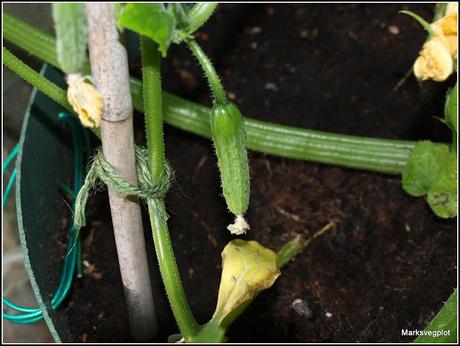 Cucumber Passandra
The Runner Beans are beginning to set pods too.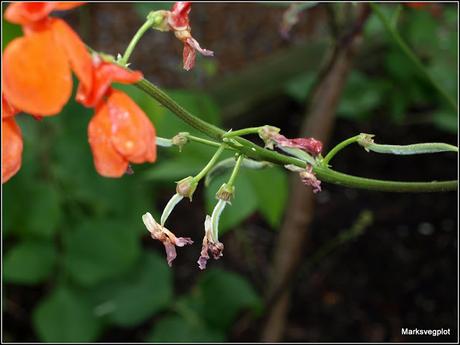 Runner Bean Scarlet Emperor
I find that a lot of the early flowers tend to drop without forming any pods. Later on the pod-set improves. I'm not sure why this is. I seem to remember having read somewhere that lack of moisture could be a factor, so I am very careful to ensure that my bean plants are well-watered. I use a hosepipe for this (because of the quantity required), but I make sure that the water is directed towards the plants' roots, and not just sprayed around all over the place. Having said this, I also note that some people advocate misting their bean plants with a fine spray of water, which they say aids pod-set. Do any of my readers have a view on this? Do you think it works?
As well as vegetables, I also have some fruit coming along. The Concorde pear tree is as sparsely-populated as usual (it has 4 fruit this year!) so I'm not going to show you that. Instead, take a look at my newest apple tree, the Laxton's Superb.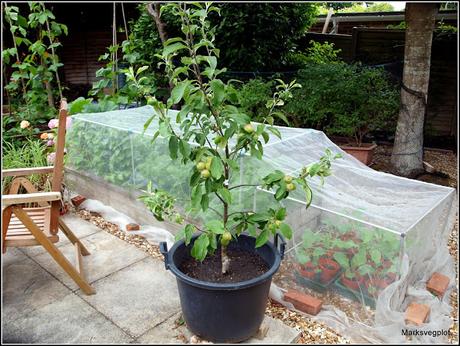 Laxton's Superb
As you can see, I have decided to grow it in a container, in which I can more easily control the supply of nutrients and water. In the Summer time it is particularly important to ensure a good supply of water, to enable the tree to properly support a good crop of fruit. This little tree seems to me to be doing well in that respect. In fact I have actually removed a few of the fruit, to avoid the tree being overburdened.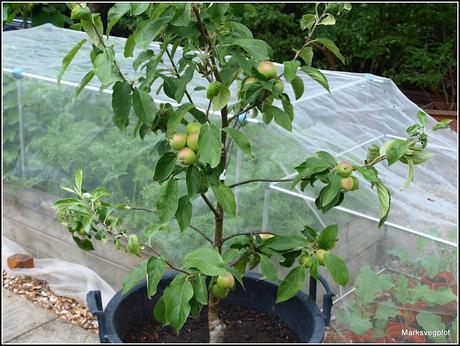 Laxton's Superb
The Winter Banana apple tree, which is a year older, has only got 4 fruits on it now, although they are quite big ones.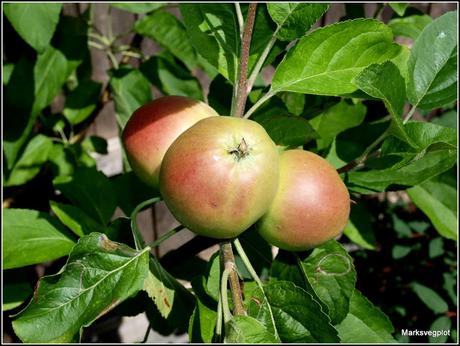 Winter Banana
Several little apples fell off in the "June Drop", but the real reason why there is so little fruit on the tree is that I pruned it quite severely. I want to get this tree into a good shape as early in its life as possible, so last Winter I cut back several of its branches, in the doing of which I presumably removed some of its dormant fruit-buds. Next year it will have more fruit, I'm confident of that! Oh, and I think the tree is a nice shape now... :)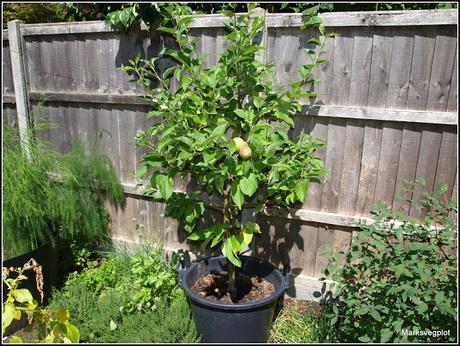 Winter Banana
I had a peek under the Enviromesh that is covering my carrots and parsnips, to check progress. So far they are looking healthy enough, but understandably still small. I reckon I might be able to harvest the first few carrots by the end of this month, but the Parsnips won't be ready until the early Autumn.
Also under the Enviromesh are my PSB plants, getting bigger by the day and hoping to be planted out soon: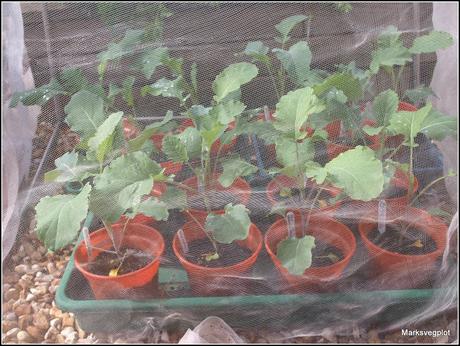 This is another tricky situation. They won't like being kept in those 6-inch pots for much longer, but I have been delaying planting them until the last of the Broad Beans are finished - and those seem to be taking
for ever
. I think I may just have to sacrifice the last of the beans and get the PSB established. Maybe I'll eat those last few beans as whole pods, rather than waiting for the beans inside to develop. I've heard that they are particularly delicious used that way.