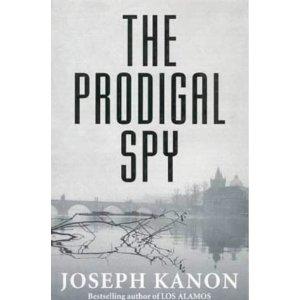 I'm really not sure what's happened to my reading of late. Where are all the Viragos and Persephones that used to be my daily fare? For the last few months I have been straying about all over the place and venturing into areas I never thought to explore before. Here's the latest -- spy fiction. Some of this is owing to the availability, or lack of it, of much in the way of literary fiction here in the depths of rural France.  But I belong to a sort of Anglo-French association, and go to art and photography groups in a nearby village. There's a bookshelf there where people leave books they don't want any more, and I trawl through them from time totime hoping somebody might have left something I could bear to read. This rarely happens, I'm sorry to say. But this one caught my eye the other day and so it came home with me and I read it with a surprising degree of enjoyment. 
 You might think that spy fiction would be full of drama and intrigue, and there certainly is some of that, but this is a remarkably quiet and thoughtful story. The prodigal spy of the title is Walter Kotlar, an American government official who, in 1950, defected to Moscow, abandoning his wife and small son. She remarries, and the boy Nicholas takes his new father's name.  Twenty years later Nick, now a post-grad student in London, gets a message -- his father, now living in Prague, wants him to come for a visit. Nick is unwilling, but is persuaded by his beautiful new friend Molly. When he gets there he finds his father old, sick, dying -- and also desperate to return to the United States. But before Nick is able to help, or even to be sure if he wants to help, Walter dies in mysterious circumstances and Nick is flung into a messy world of intrigue and suspicion -- will he ever find out the truth?
This is, in fact, a really good story, and has plenty of interest to say about father-son relationships. The historical background (yes I'm always a sucker for that) is very well done, both 1950s America and 1970s Prague and London. But what struck me above all was how extremely well written it was. My snobbish remarks about literary fiction should really be edited out, or at least I must say that it's good to have your horizons broadened and to discover that there is some really good and readable writing going on in genres way outside the work of women writers of the twentieth century. I shall be looking out for more novels by Joseph Kanon.