Experts have discovered a number of things common between Japanese Prime Minister Shinzo Abe and Prime Minister designate Narendra Modi. After landslide victory in LS election Shinzo Abe invited Modi to Japan to continue the annual bilateral summit meetings.
TIMELINE
My gratitude to Prime Minister @AbeShinzo for extending his good wishes. Strong relations with Japan is beneficial for both our nations.
— Narendra Modi (@narendramodi) May 19, 2014
Front SHELF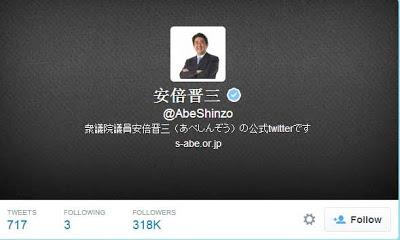 Japanese Prime Minister Shinzo Abe [@AbeShinzo] has 318K followers on Twitter currently, but he follows only three people in this world.
Who're these lucky persons?
They are Akie Abe [@akieabe], his wife of 27 years, Naoki Inose [@inosenaoki], a Japanese journalist, historian, social critic and biographer of literary figures, and Indian Prime Minister designate, Narendra Modi [@narendramodi].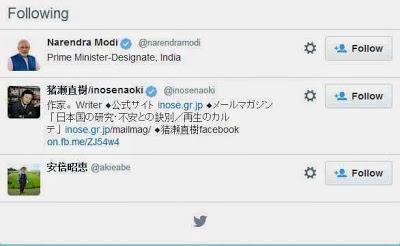 BOTTOMLINE
Is Modi India's Shinzo Abe
?
Observes Strategic Expert
Brahma Chellaney
: "The 63-year-old Modi mirrors Abe's soft nationalism, market-oriented economics, and new Asianism, seeking close ties with Asian democracies to create a web of interlocking strategic partnerships."