On Friday DD showed LIVE Telecast of RSS chief address on the ocassion of Vijay Dashmi. Now DD is being criticised for its act.
TIMELINE
Raising the issue Historian Ramachandra Guha has wished someone would file a PIL on the issue. The left parties say the live telecast as misuse of power.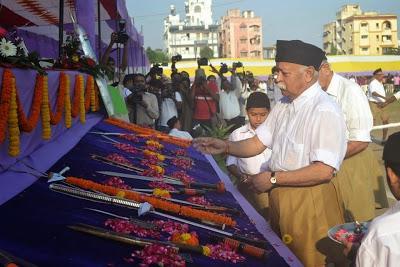 RSS chief Mohan Bhagwat
Front SHELF
Heads of religious organizations: Hindu, Muslim, Christian, must not be patronized by state TV. They are free to run their private channels
— Ramachandra Guha (@Ram_Guha) October 3, 2014
The RSS is a sectarian Hindu body. Next, imams in mosques and priests in churches may ask that DD covers their speeches live!
— Ramachandra Guha (@Ram_Guha) October 3, 2014
I hope someone files a PIL against DD's plans to cover the RSS chief's speech live. This naked state majoritarianism must be resisted.
— Ramachandra Guha (@Ram_Guha) October 3, 2014
"The government, specifically the Information and Broadcasting Ministry, should give an explanation to the people for allowing DD to be the mouthpiece for the RSS."
- D Raja, National Secretary, CPI
In a statement the CPI(M) Politburo said, "
The RSS uses the occasion to propagate its Hindutva ideology. The national public broadcaster has no business to telecast live the speech of the Chief of an organisation like the RSS.
"
BOTTOMLINE
In his customary Dusshera address to RSS workers at Reshmbagh ground in Nagpur, Mohan Bhagwat said, "A new ray of hope has entered the hearts of the people. The entire country was feeling proud of the visit and the subsequent talks with the US government."
HIGHLIGHTS OF SPEECH [Full Text] "No one has magic wand to change, we will have to wait."
+++
"New government is not even six months old, but positive signs are emanating from time to time which give hope."
+++
"Our athletes have made us proud in the Asian Games."
+++
"The grand success of Mangalyaan has tremendously generated respect for us & has added to our self respect."
- Mohan Bhagwat, Chief, RSS
Jehadi and Naxal extremists groups have presented a serious threat to the internal National Security : Bhagwat #RSSVijayadashmi
— Dr Mohan Bhagwat (@DrMohanBhagwat) October 3, 2014
The right wing Hindu nationalist organisation RSS was formed on Vijay Dashmi in 1925 in Nagpur.
# Desk Report [This post is compiled from media reports.]