Injecting your lips with collagen to get fuller lips is all the rage in Hollywood because full lips are supposed to be "sexy."
But if you're thinking of this procedure, you should look at what happened to Farrah Abraham.
23-year-old Abraham is a desperate fame whore who became pregnant out of wedlock when she was 16. Her claim to "fame" is based on her appearances in the MTV reality television series 16 and Pregnant and its spin-off, Teen Mom. Her 2012 memoir (a 21-year-old has a memoir, imagine that!), My Teenage Dream Ended, actually made it onto The New York Times Best Seller list — which goes to show too many Americans are stupid and utterly devoid of sense or sensibility.
In 2013, in mimicry of how Kim Kardashian became (in)famous, Abraham released an explicit sex porn video, Farrah Superstar: Backdoor Teen Mom, in which she appeared with pornographic actor James Deen. In 2014, she released a sequel Farrah 2: Backdoor and More.
Abraham was the most searched reality TV star on Google of 2013 — which goes to show even more Americans than in 2012 are stupid and utterly devoid of sense or sensibility.
Only 23 years old, Abraham is already addicted to plastic surgery.
Here she is in Oct. 2013:
This is what happened to Abraham's face after a recent botched lip injection: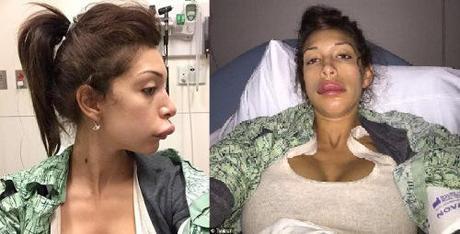 Lest you think her big boobs are real, this is what they looked like in 2010 before Abraham inflated them from A- to C- to her present D-cup: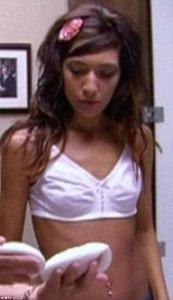 Source of photos: Daily Mail
~Eowyn