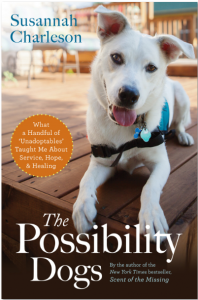 This wonderful book, The Possibility Dogs: What a Handful of Unadoptables Taught Me About Service, Hope, & Healing by Susannah Charleson, author of the bestseller, Scent of the Missing, is an insightful and compelling story about the author's experience rescuing abandoned dogs and training them to become psychiatric service dogs.
Unlike assistance dogs, who help those with "visible" disabilities, psychiatric service dogs work beside those with "invisible" disabilities—psychological disorders, such as panic attacks, unpredictable PTSD, and treatment-resistant depression. According to Charleson, service dogs, like assistance dogs, deserve the respect and appreciation of their human handlers and from the general populace.
Charleson, a dedicated search and rescue professional who experiences a particularly traumatic search, becomes introduced to psychiatric service dogs and learns to identify dogs that have service potential, often rescuing them from shelters at the last minute. She trains these abandoned, hard-working dogs to sense changes in human voice and posture, watching their partners' face to see if any behavior seems concerning. If so, they intervene by performing specific tasks that prevent, lessen, or redirect that behavior. Although these dogs may be considered "unadoptable"—they may be blind, deaf, or missing a limb—they are eager to learn and to work. Their need to feel loved is as great as their desire to give love.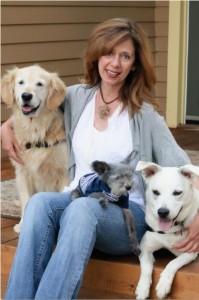 Charleson intersperses her narrative with stories of her own rescue dogs, like the perceptive and friendly Jake Piper. This white shepherd-pit bull-poodle mix was found in a rat-infested shed behind an abandoned house with no food or water. Barely alive when he was found, he quickly adapted to Charleson's home and pets. He is just one of the dogs that have helped their handlers achieve a happy, balanced life.
This book is a touching reminder of how truly remarkable the human–dog partnership can be. You will quickly be immersed in the author's journey, and be amazed at how these dogs and the people they help give each other comfort, and the possibility of a better life.
Tags: & Healing, book review, disability dogs, Hope, human animal bond, human dog partnership, service dogs, Susannah Charleson, The Possibility Dogs: What a Handful of Unadoptables Taught Me About Service, unadoptable dogs