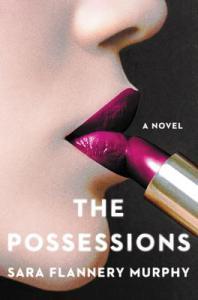 Book Cover Image: The Possessions by Sara Flannery Murphy

" data-orig-size="264,400" sizes="(max-width: 198px) 100vw, 198px" aperture="aperture" />
BOTTOM LINE: Gorgeous cover. Unfortunately, the story leaves a lot to be desired.
Genre: Psychological Suspense
Publication Date: 7 February 2017
Source: Publisher via Edelweiss
"In this electrifying literary debut, a young woman who channels the dead for a living crosses a dangerous line when she falls in love with one of her clients, whose wife died under mysterious circumstances.

In an unnamed city, Eurydice works for the Elysian Society, a private service that allows grieving clients to reconnect with lost loved ones. She and her fellow workers, known as "bodies", wear the discarded belongings of the dead and swallow pills called lotuses to summon their spirits—numbing their own minds and losing themselves in the process. Edie has been a body at the Elysian Society for five years, an unusual record. Her success is the result of careful detachment: she seeks refuge in the lotuses' anesthetic effects and distances herself from making personal connections with her clients.

But when Edie channels Sylvia, the dead wife of recent widower Patrick Braddock, she becomes obsessed with the glamorous couple. Despite the murky circumstances surrounding Sylvia's drowning, Edie breaks her own rules and pursues Patrick, moving deeper into his life and summoning Sylvia outside the Elysian Society's walls.

After years of hiding beneath the lotuses' dulling effect, Edie discovers that the lines between her own desires and those of Sylvia have begun to blur, and takes increasing risks to keep Patrick within her grasp. Suddenly, she finds her quiet life unraveling as she grapples not only with Sylvia's growing influence and the questions surrounding her death, but with her own long-buried secrets.

A tale of desire and obsession, deceit and dark secrets that defies easy categorization, The Possessions is a seductive, absorbing page-turner that builds to a shattering, unforgettable conclusion."
My Thoughts: The Possessions certainly defies categorization; it also defies my understanding of its purpose. It is a story about obsession and identity, and yet Ms. Murphy never provides a clear resolution. It is an odd story in which you feel disgust and sympathy for Edie but ultimately never really care about her plight or how her story ends.
One of the issues with the story is a lack of answers. There are so many questions surrounding the Elysian Society, the work they do, how the lotuses work, and so forth but no answers to any of them. While it is easy to appreciate the lack of a set time and place of the novel, the temporal and geographic isolation is unnerving and frustrating. Because you only obtain Edie's point of view and her public interactions are few, you have no idea how the rest of society views these temporary possessions, how one discovered they actually occur, or anything else that would build the scene for the reader. There is no context that would help the story to make sense, no past to create a backstory, and no future to establish hope.
Edie is equally frustrating as a narrator. She is obviously hiding something which, like any good thriller, remains a central element of the story. However, she is also smug in her superiority for keeping herself remote and being the best body at the Elysian Society. She takes tremendous pride in working there for five years, and that pride drives her thoughts and actions. However, that same aloofness that makes her an excellent employee also makes her almost sub-human. She is not a character with whom you can easily identify, nor do you want to. Her obsession with her client does nothing to humanize her because she remains clinically detached from the relationship, hiding behind Sylvia's and Patrick's needs rather than confronting that which has her hiding.
There is a myriad of psychological issues at play within the novel and particularly with Edie. However, to want to unravel them one must care about the subject. In the case of The Possessions, I did not care enough to want to dwell on the psychology of the Edie. It made no difference to me whether she found happiness or not. It is as if I absorbed some of Edie's remoteness, thereby keeping my emotional distance from the story. This makes it a disappointing read if only because a cover that luscious deserves a fabulous story, and this is not it.