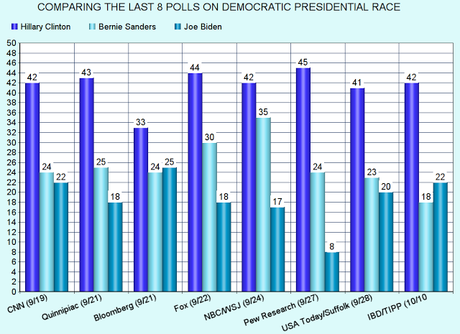 The media seems determined to convince people that Hillary Clinton's support is "fading", and Bernie Sanders supporters want you to think that he is fast catching up with Clinton. Neither is true. The chart above shows the last 8 polls on the Democratic presidential race (from RealClearPolitics) -- and I venture to say that every other candidate (of both political parties) would love to have Clinton's numbers.
Clinton's numbers are remarkably consistent, averaging 41.5% in those last 8 polls. And Bernie's numbers have been pretty consistent also, averaging 25.4% in those same polls. That gives Clinton a 16.1 point advantage -- and shows that Sanders is having trouble getting out of the mid-twenties (where he has been since shortly after entering the race).
NOTE -- I included only these three people in the chart, because no other candidate was able to even average 1% in the 8 polls.