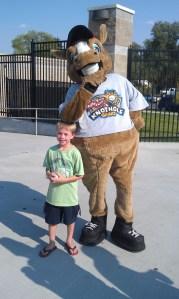 P Motion and Homer.
Sunday of Labor Day weekend we took our team of sluggers to a minor league baseball game.
Arriving at the ballpark about a half hour ahead of the first pitch, we made our way to the walk-up ticket window, and $18 later (hello, beer money!) the six of us were through the gate.
You gotta love minor league prices, especially on the heels of an epic Chuck E. Cheese's run (aren't they all?) and back-to-school shopping looming the next day.
Our tickets were for a grass area down the first base line behind the visiting team's bullpen, which in this ballpark amounts to the foul territory down the right field line — think Wrigley — where we spread out a blanket and plopped down.
Afternoon baseball is a real treat. Savoring the warm-but-not-hot late summer sun on the backs of our necks, we watched the players nonchalantly yuck it up as they loosened their arms, the whistling whiz of stitched rawhide popping well-oiled leather providing a rhythmic soundtrack for this little slice of Americana. (Take that, Ken Burns.)
The serenity of this moment lasted just under two minutes before our bench players got restless, which was just fine. Part of the reason we opted for the cheap seats on the grass (besides beer money) was knowing that the kids wouldn't be content sitting still for long, and we didn't expect them to.
So we were up and off. Perpetual Motion to the inflatable jump pit; Kick Ass Wife, Hellcat, and Tax Credit #4 in search of snow cones; Slim double-fisting a couple hot dogs and me double-fisting a couple Shock Top Belgian Whites.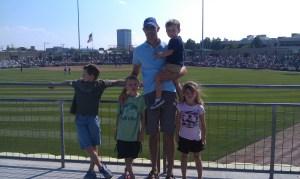 Slim perfectly demonstrating the pace of the day: chill.
Then back to the blanket for starting lineups, our Anthem, and the first pitch, just before which the players in the pen turned and tossed a ball to each of the kids.
This pattern continued for the entirety of the game. Watch a half inning from the grass, get up and move.
We made several laps of the field, pausing along the way to watch from several different vantage points, the kids asking questions, pointing, then scurrying just ahead or falling just behind as we mosied on.
No hurry, no worry, our pace matching that of the game being played before us, a welcome relief after the first week of school with its maddening rush of morning and evening and everything in between.
It was good stuff, all the way around.
Oh, and great baseball, too. We cheered on an inside-the-park home run by the home team's number two hitter in the bottom of the first, maybe the most exciting play in baseball. We marveled over a dazzling play by the shortstop from deep in the hole, and applauded the right fielder's running snag of a ball hit to the gap. And we witnessed quite possibly the best pickoff move in the history of baseball.
But it didn't involve a pitcher.
It involved a 3-year-old.
Somewhere toward the later innings Kick Ass Wife and I somewhat begrudgingly agreed to get one bag of cotton candy for the crew to share, our reservations having nothing to do with nutritional value (see: snow cones, hot dogs, soft pretzels, nachos) but with messiness value, which, if left up to me, would be a major determining factor for all food choices (see: jerky). But we figured "What the hell?" It was a go-all-in type of afternoon.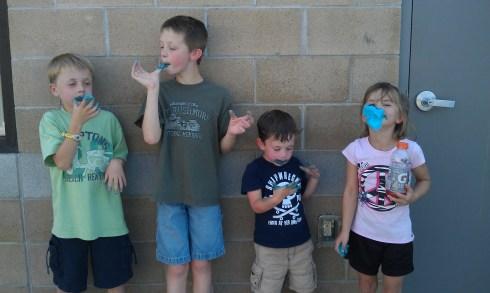 "Sure wish I had some more…"
We lined up the kids along the concession stand wall and allowed each of them to get one big handful of the sugary wisp, and, quicker than a catcher's snap throw to first, they were instantly covered in cotton candy blue.
Others walking by chuckled and pointed out the quartet of sticky siblings to companions, giving me that knowing look that says, "You poor bastard."
Of course, I had to get a picture. And it was then, as I was capturing another memory from our day at the ballpark, that the pickoff occurred.
Tax Credit #4, who had already inhaled his allotment, glanced up and spotted his sister's remaining chunk hanging from her mouth as she preened for the pic, and with the deftness of a fourth-born who knows he's going to get only one chance at something — if any — #4 snatched it from her lips and crammed the whole of it into his mouth in one smooth motion.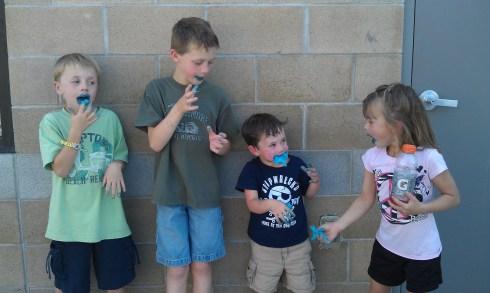 "…and now I do. Thanks, Sis!"
Hellcat stared down at her little brother, dumbfounded (and enraged). His brothers laughed and complimented him on his handiwork. His mother didn't even realize what had happened. I raised my cup to him.
It truly was a move (and a day) for the ages.