I've been seeing commercials for the new Kevin Bacon TV drama called The Following lately, which co-stars James Purefoy as an imprisoned serial killer who has somehow created a Manson-like flock of followers. I couldn't place where I remembered Purefoy from…until I looked him up. Turns out this is quite a departure from the show he was the lead in a few years back, a 2009 NBC summertime drama called The Philanthropist.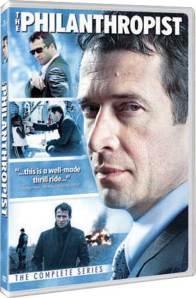 The Philanthropist is now available on DVD.
TV.com summarizes The Philanthropist as follows:
James Purefoy stars as Teddy Rist, a billionaire and playboy who turns into a philanthropist after witnessing a severe flood in Nigeria. From now on, Teddy travels the world and uses his power, his money and his passion to help those who are in need. Haunted by his past, by the young son he lost, Teddy seeks the danger and risks his life to fight his inner demons. The Philanthropist is produced by The Levinson-Fontana Company in association with Original Media and Universal Media Studios.
The Philanthropist lasted just eight episodes as a summer fill-in, never quite catching on with a groundswell of viewers that would be needed to move it onto the fall slate. The show co-starred Neve Campbell (Party of Five, Scream, Wild Things) and Jesse L. Martin (Law & Order, Rent), so it certainly wasn't lacking in experienced actors.
The trailer, though, gives some hints as to why this show might have failed…
Seriously, that voice-over at the exclaiming "The Philanthropist!" is comical…but I guess it was meant to appeal to the traditional summertime viewing audience…no easy feat for a show with a title that requires an explanation for many.
This show might have had a chance to find an audience on a cable channel, or in a fall time slot, but breezy summertime viewing defeats the idea of building a base for a show about philanthropy, social issues, and helping others. This was, then, necessarily packaged as a dramatic, even sudsy drama about that "billionaire playboy" more so than an issues-based one. Though it bounced between heartstring moments, action-adventure, and personal drama, it was actually a pretty decent show, with that strong cast making up for some of the plot and script shortcomings (and those eight episodes are available on DVD from Amazon and other retailers).
One reality show I'd love to see one day (and believe me, there aren't many…reality shows may be the death of original thought on TV one day) would be a show built on the premise this drama was built around: a wealthy citizen of the world who is hands-on with his (or her) philanthropic work, not just writing checks but also investing time and energy to see those dollars make a difference. Imagine the impact a show featuring a Bill Gates or a Richard Branson could have if they were parachuting into places, populations, and issues in dire need of their support – and they rolled up their sleeves and made it happen.
These types of philanthropists do exist. The TV show was based on the work of real-life tycoon and philanthropist Bobby Sager, whose motto for his foundation is, "We believe in hands-on, eyeball-to-eyeball philanthropy."
There are other examples as well. Charles Annenberg Weingarten was quoted in a Chronicle of Philanthropy item about his work in 2010, saying "I can't understand giving if it's impersonal," he said. "I don't give grants by somebody sending a 20-page docket."
With the popularity of some "smarter" reality shows recently, like the genealogy-based Who Do You Think You Are? (which lasted three seasons on NBC and could be picked up by a cable network in the coming months), maybe we'll see an effort like this come to television one day soon. Inspiring others to give, and to get involved in the causes they support, by spotlighting real-life philanthropists who do just that could be very impactful, especially on the heels of the star-studded 12/12/12 Concert that raised millions to help the communities hit by Hurricane Sandy…but that will only happen if a network has the courage to produce a show that is on a slightly higher intellectual and social plane than most of the reality fare that clogs their schedules (and pays the bills) these days.