For those of you who don't know, myself and Chris are looking to find a place to live together (once lockdown lifts here in Scotland!). I'm not going to bore you with the boring details of the ins and outs, but the best part - decorating and furnishings - I am HERE for.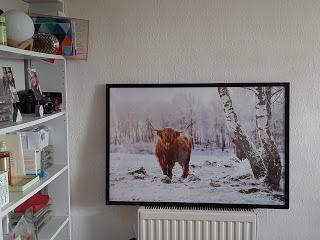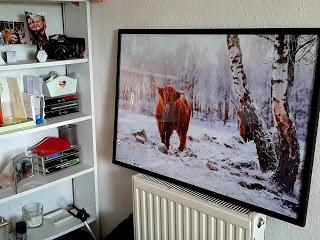 I was recently contacted by
Photowall
, who kindly offered me a framed print of my choice from their website. The opportunity couldn't have come at a better time - I also have a 25% discount code. Just enter '
hollysturgeon25
' at checkout.
Photowall allow you to choose between print, poster, wallpaper or your own picture. You can then choose the size that suits you and frame of your choice (if desired).
I literally had hundreds of options to choose from. Categories include Art, Nature, Animals and Vintage. There's 18 categories in total to choose from. I had an idea in mind to get a large landscape scottish highland cow picture for above the sofa but with so many different designs and finishes to choose from, it was difficult trying to decide on one.  In the end I was able to find exactly what I had in mind!
The print took roughly 3 days to arrive which was much faster than I expected. It came in a box with bubble wrap inside to protect it. On the back of the frame (I opted for a matte black frame) there were fixtures prepared for hanging which makes things much easier.
Myself and Chris haven't found our home just yet, but I've taken photos of the picture in my room so that you can see it. We very luckily were given a beautiful red leather sofa and chairs from our lovely friends Gill & Lee, which works perfectly with the 'Scottish/Modern yet traditional' vibe we are hoping for.
For anyone who is looking to get some artwork for their home or as gifts, then check out
Photowall
and use my discount code '
hollysturgeon25
' to get 25% off. The code is valid until 15th August 2020.
H x