1. 2. 3. 4.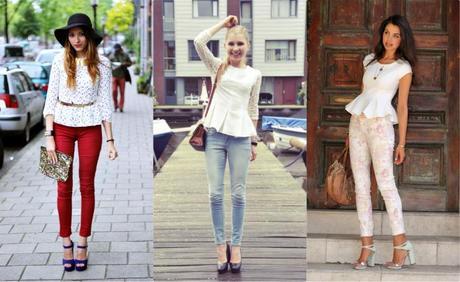 All photo's from Lookbook
I had never really considered wearing peplums until i saw a friend wearing this little lace number from Warehouse today. It suddenly struck me how flattering, pretty and versatile they are, so i've literally spent all day sprawling the internet for the 'perfect peplum' (hence the post title). I came across the gorgeous polka dot one from H&M (As seen on the far left outfit photo) however much to my disappointment, it sold out months ago ... typical. Despite this, I continued to search and found many lovely peplums! Including this one from boohoo, which i just had to buy. Due to the current hatred of my arms
bingo wings
 i personally prefer ones with sleeves, however, the lace top from River Island (no.1) would look adorable with a leather jacket or even just a cardigan. I love that peplums can so easily be transferred from day-night too. I can imagine the Stella McCartney one *tears about the £310 price tag* would look great with some black jeans and loafers in the day, and some peep toe heels and a clutch at night! So basically, I-must-buy-a-peplum. 
Have any of you girlies found some great peplums? Leave any links to your outfits etc... below because i'd love to check them out! :) Have a great weekend too!! xxx