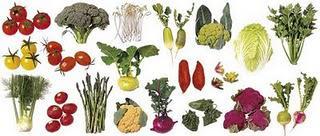 It came to me as I was writing a Mother's Day entry for School Meals That Rock – the perfect dish to celebrate moms, kids, and May as Salad Month – a colorful mélange of baby veggies.
These tiny vegetables are small in size, but big on sweet flavor and tender texture. The trend of mini-produce originated in Europe and spread rapidly to gourmet restaurants, farmer's markets, and finally mainstream supermarkets across the US.
AKA miniatures or midgets, these tasty treats are sometimes just immature regular vegetables. More and more frequently, they are special varieties bred to stay small and adorable. Virtually every seed seller from Burpee to Seedman has their own specialties and exclusives – with names guaranteed to delight any child: Golden Baby Bell Peppers, Golden Nugget Carrots, Baby Boo Pumpkins, Golden Midget Watermelons, Tom Thumb Lettuce, Bonsai Bok Choi, Sweet Dumpling Squash, Ladyfinger Potatoes, and Jolly Elf Tomatoes.
Baby veggies are perfect for children's and schools gardens – as well as Mother's Day gifts and dinners. For gorgeous baby vegetable baskets and delicious recipes, visit Melissa's Produce pages.
My vote for a perfectly delicious Mother's Day Dish: Baby Vegetable Antipasto from MyRecipes.com – easy to make with a variety of veggies and fresh mozzarella.