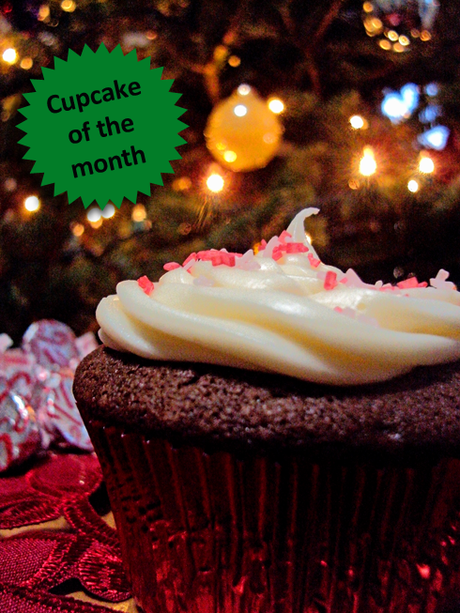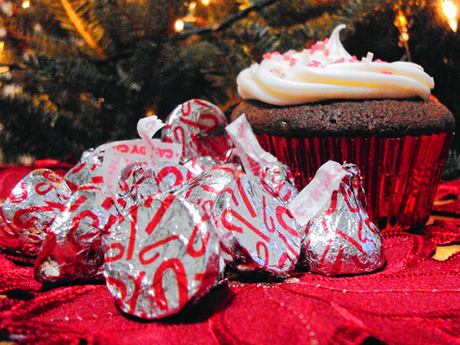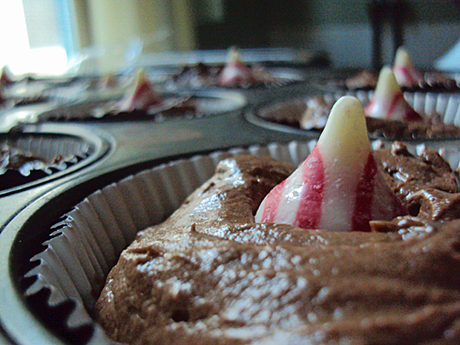 The December cupcake is pure holiday bliss. It's a peppermint chocolate cake with a Hershey's Candy Cane Kiss in the center, white chocolate frosting, and candy cane sprinkles on top.
So festive, so delicious -- it's the perfect December dessert!   
Chocolate candy cane cupcakes with white chocolate frosting Yields 12 cupcakes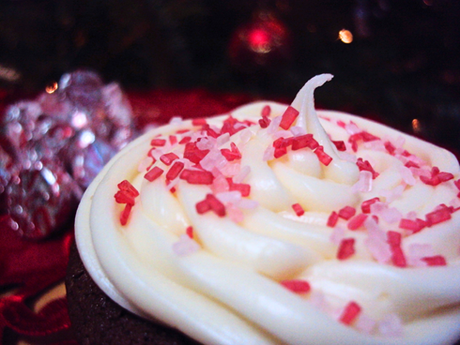 Ingredients
For the cakes
Inspired by Simply Recipes

8 Tbsp unsalted butter
1/2 cup Dutch processed cocoa
2 ounces bittersweet chocolate, chopped
3/4 cup flour
3/4 teaspoon baking powder
1/2 teaspoon baking soda
2 large eggs
1/2 teaspoon salt
3/4 cup sugar
1 1/2 teaspoons peppermint extract
1/2 cup sour cream
12 to 24  Hershey's Candy Cane Kisses, unwrapped
For the frosting
Inspired by How Sweet It Is
8 Tbsp unsalted butter, at room temperature
2 1/2 cups powdered sugar
1 teaspoon vanilla extract
4 ounces white chocolate, melted
1-2 tablespoons milk (or more if needed)
Candy cane sugar/sprinkles (can be found in  the baking aisle this time of year.)

Directions
Preheat oven to 350°F. Line your cupcake tin with liners. 
Melt the butter (cut into chunks), chocolate, and cocoa over low heat (or in a double broiler), whisking until the ingredients are well combined and smooth. Remove from heat and let cool to touch.
In a small bowl, sift together the flour, baking soda, and baking powder.
In a large bowl, beat the eggs. Add the salt, the sugar, the peppermint extract and beat until well combined. 
Slowly add in the chocolate butter mixture and beat until combined.
Add in half of the sifted flour mixture, mix to combine. 
Mix in the sour cream. 
Mix in the remaining flour mixture.
Spoon the batter evenly into the cupcake pans. 
Place a Hershey's Candy Cane Kiss (or two) into the center of each cupcake.
Bake for 18-20 minutes.
Let cool.
For the frosting
Cream the butter until fluffy in a mixer. 
Add the vanilla and melted chocolate and continue to mix. Slowly add the powdered sugar to the mixer. 
To reach desired the consistency, add in milk 1 teaspoon at a time with mixer on low speed. 
Frost your cupcake and sprinkle some candy cane sugar on top. Enjoy with some hot chocolate!