&version;
"What kind of chocolate chip cookies do you like? Crispy or chewy?" I asked.
"Chewy!" said one of my new colleagues. And the rest said the same.
Ok! This is why I have baked these Perfect Chewy Chocolate Chip Cookies...
New colleagues? I have started my new job recently. New job means new colleagues and new friends ^-^
Through our lunch time conversation, my colleagues told me that they have not try couverture chocolate and so I volunteered to bake some really nice chocolate chip cookies with Callebaut chocolate for them. Then, one of my colleagues suggested that I should up a blind test for them to see if they can differentiate the cookies that are baked with couverture chocolate or the common supermarket baking chocolate.
Guess what? All of my colleagues who tried the cookies can tell the differences!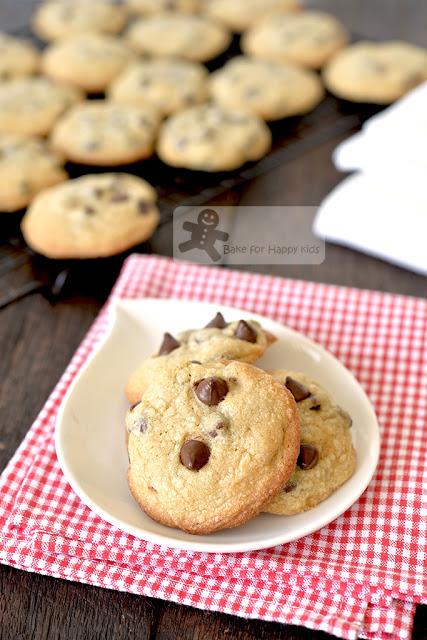 The Perfect Chewy Chocolate Chip Cookies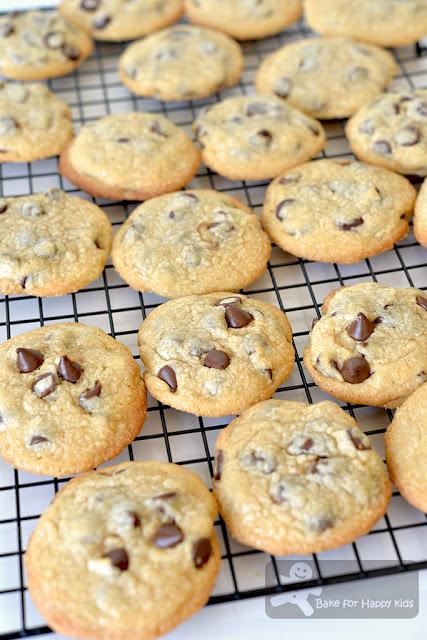 These freshly baked cookies are moist and chewy on their inside and crispy at the edges.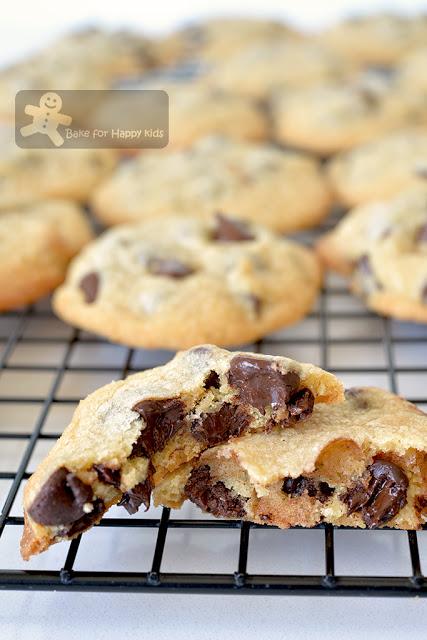 Every cookie is fully loaded with good quality chocolate!
YUM!!!
"Can I have some of these cookies?" asked my son.
"Yes, of course! Would you want the cookies with Callebaut chocolate or the supermarket chocolate chips?" I know that my son can taste the difference in these chocolates and don't want him to be angry with me when he tasted the difference.
"The ones with Callebaut chocolate, of course!" said my son. I can tell his reply is instant and very certain!
Hmmm....
Being an experienced baker, I know that there are two recipes at here and here that can bake really nice chewy and sweet chocolate chip cookies. Instead of using melted butter which can make cookies chewier with slightly fudgy texture, I prefer creaming the soft butter with sugar so that the cookies will have a puffy chewy texture.
Here's my version of the Perfect Chewy (Nut-free) Chocolate Chip Cookies that is adapted from here.Is this recipe your favorite version?
If you like my recipes, please LIKE, SHARE and FOLLOW me at either my Facebook at here or here or my Instagram @zoebakeforhappykids Thank you! Your support will motivate me to share more in the future...
Makes about 40 medium cookies
200g unsalted butter, softened at room temperature
100g (1/2 cup) caster sugar
150g (3/4 cup) light brown sugar
1 tsp vanilla paste or extract
1 large egg, at room temperature
1 large egg yolk, at room temperature
260g (1 3/4 cups) plain / all-purpose flour
1/2 tsp baking powder
1/2 tsp salt
350g (2 cups) chocolate chips, plus more for topping if desired
Preheat oven to 190°C / 375°F. Line baking trays with baking paper.
Using a wooden spoon or an electric mixer with paddle attachment, beat butter and both sugar for about 2-3 min until combined. Do not over-beat mixture. Beat vanilla into mixture until combined, about 1 min. Combine egg and egg yolk and add egg mixture bit by bit into the butter mixture and beat well after each addition.
Combine flour, baking powder and salt. Sift flour mixture into the butter mixture and use a spoon or spatula to mix until all ingredients are well-incorporated. Then, stir in chocolate chips.
Divide dough into 30g (1 ounce) portions and roll them into balls. Arrange the divided cookie dough onto the prepared baking trays with about 7 cm / 3 inches apart. Use the back of a metal spoon to flatten the cookie dough slightly. Top cookie dough with more chocolate chips if desired.
Bake for 10 mins or until the edges of the cookies are golden brown. Do not over-bake the cookies as they will become less chewy. If you are baking two trays at one go, swap and rotate the position of the tray halfway through the baking so that that the cookies are baked evenly.
Allow cookies to cool slightly on the tray for 10 mins, then transfer onto wire racks to cool completely.
Enjoy! Nom nom nom...
Store any uneaten cookies in an airtight container at room temperature for up 3 days.
Happy BakingPlease support me and like me at Facebook...