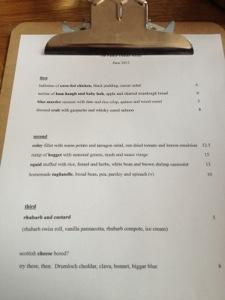 The Pantry is one of the latest additions to the Stockbridge culinary scene, and what a time it is for the area. Recently voted the 3rd coolest place to live in the UK the area is alive with some of the trendiest and most relaxed eateries in the city. The Pantry falls into this category for sure.
From the menu you see above the keep it small, seasonal and achievable. You won't see 30 items here just a great combination of fresh and local produce.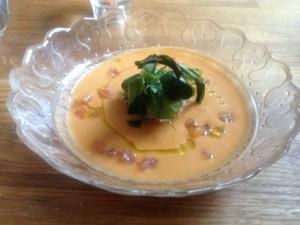 For starters my dining chum and I both opted for the crab & smoked salmon gazpacho! What a great dish, fresh gazpacho with fresh crab and a light smokey salmon all come together to create a great summer dish. The seasoning was spot on, just can't fault it.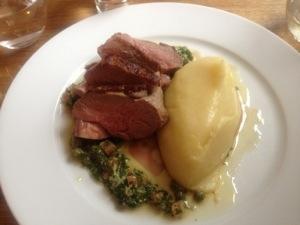 For main I had the hogget with mash, seasonal greens and sauce vierge. Seasoned pink lamb, smooth mash, capers, lemon…..mint…… YUMM!!! Really it's as tasty as it looks. The lamb was so tender, again for what is a very modest place this was an accomplished dish and is the kind of food you want to demolish!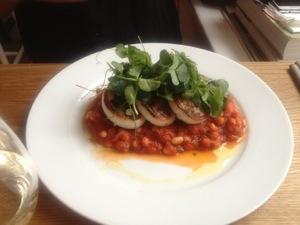 My dining chum had squid stuffed with rice, I only tried a little but again very tasty.
For desert I think made a mistake…. I had the cheese and it was very tasty as cheese goes but check this out……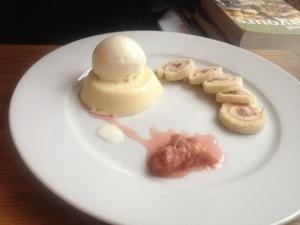 Rhuuuuubarb, pannacotta wow!! Looked great, tasted great, could have been a desert in a much fancier much more expensive restaurant. These guys are really working hard and it's paying off.
To get a 3 course meal for £30 in Stockbridge is always a win in my book! It's BYOB and topping it off with a bottle from Australia's coolest wine makers Some Young Punks made for a great night.
The Pantry – Highly Jd Recommended!!!