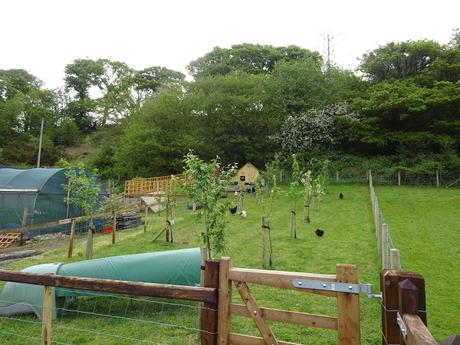 This is to be part of a series of posts about what we are, or are on our way to being, Self Sufficient In  ...
Everywhere is greening up nicely now, so much so that I am going to start calling the spot where the chickens are currently living The Orchard.  After all according to Wikipedia -
 '

An 

orchard

 is an intentional planting of 

trees

 or 

shrubs

 that is maintained for 

foodproduction

.'

 Which is exactly what this is, although with the trees appearing to be no more than spindly little sticks until this last few weeks, I was loathe to give it such a 'posh' title. 
So in The Orchard we have:
3 Damson - Merryweather  3 Pear - Doyenne du Comice 3  Cherry - 2 Stella and 1 Morello  3 Apple - 1 Bramley, 1 Braeburn and 1 Cox's Orange Pippin 3 Plum - Victoria
And at the top of the hill espaliered on the fence is another unknown variety of Apple.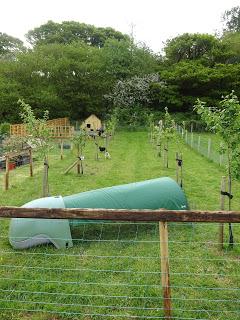 All the trees used to have identifying labels on them ... but the chickens have very helpfully removed most of them, it's a good job I have a little notebook that reminds me of everything that we have planted!!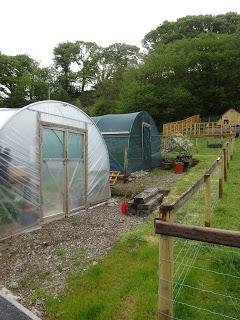 I have temporarily moved the Blueberries out of the Net Tunnel to stand by the back door of it.  The wind has been much calmer recently and as a reader commented recently (thanks for the reminder Kris) they do need to be pollinated by the bees.  It was okay while I was working in there with the door open each day but I have had no reason to be in there for the last week and I doubt many bees would be able to fit through the mesh of the tunnel so (to quote Nellie Pledge) they are stood standing  outside for now.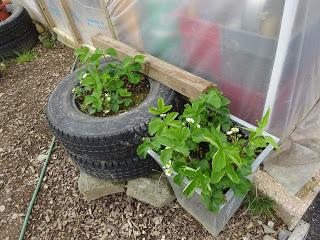 At the front door of the polytunnel, this week's sunshine and warmth has brought the transplanted strawberries on a treat and at last we have flowers.  The strawberries in the tall galvanised planter on the right of the tyres have now been joined by the start of the Jerusalem Artichokes that also live in this tub.  That's the first one coming through that you can see in the top righthand corner of the tub.
 As well as the fruit trees in the Orchard and the strawberries here, we have the nut trees in Nut Wood and the four rhubarb plants in the rhubarb patch, with some more strawberries that were hiding when I moved the others.  I also have a hanging basket of strawberry plants in the polytunnel and the old Belfast sink near the back door that is absolutely full of lovely flowering strawberry plants.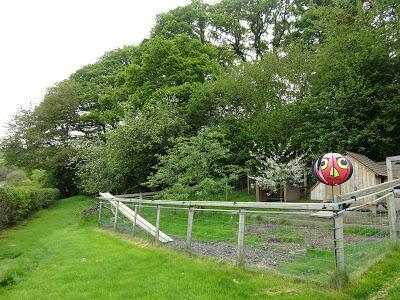 And of course over in Chicken World there are the Plum and Cherry trees and the huge old Bramley apple tree and by the man-shed there is another old eating apple tree of unknown type. 
So I have my fingers firmly crossed for a half decent fruit yield this year, with the amount of blossom that is on all the trees it's looking hopeful.
Self Sufficient In ... Fruit and Nuts
Sue xx