VN:F [1.9.20_1166]please wait...Rating: 10.0/
10
(1 vote cast)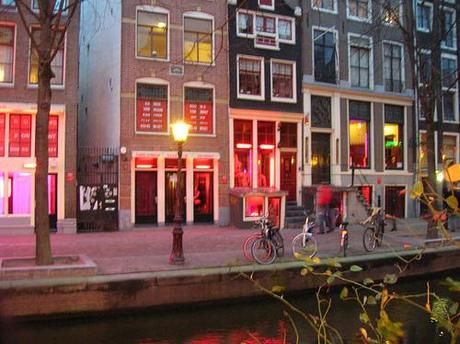 Image courtesy of Flickr user ComùnicaTI
Let's face it, many out-of-towners know Amsterdam best as the land of decriminalized drugs and legalized prostitution. While there's oh-so-much-more to the Dutch capitol than just those two things, they definitely deserve some time in the spotlight.
With that in mind, I'd like to introduce to you "the oldest gals in the oldest profession," Louise and Martine Fokkens. Yes, you guessed right, these ladies like to keep it all in the family - they're twins!
They're also 70 years-old and, when you put them both together, have been in the business for almost a century.
Most recently, the "oldest window girls" were featured in an article on The Guardian, but they also inspired the film Meet the Fokkens (Owehoeren, or Old Whores, in Dutch) and have written a book due out later this month - Owehoeren Op Reis (Travelling with the Fokkens) published by Bertram & de Leeuw.
Besides their age, these ladies stand out as very Dutch in a profession that typically attracts mostly Eastern European women.
Louise was forced into the trade by an abusive husband and Martine followed shortly after out of solidarity.
Arthritis forced Louise out of prostitution two years ago, but Martine continues to work in Amsterdam's famed Red Light District with no definite retirement date in mind.
Though there are the occasional reports of forced prostitution and sex trafficking, for the most part, the sex profession in the Netherlands is a relatively safe one. There is a sex workers' union, police protection, an information center for workers and visitors, and frequent testing and monitoring.
The Amsterdam city council has plans, through project 1012, to put an end to criminal activity in this area by reducing the number of business institutions that can be vulnerable to this sort of activity.
When visiting the Red Light District, remember that photography is okay, but cameras may never be directed at the workers.
© 2012, Amsterdam City Tours Blog. All rights reserved. On republishing any part of this post, you must provide a link back to this original post
VN:F [1.9.20_1166]please wait...Rating: 10.0/
10
(1 vote cast)VN:F [1.9.20_1166]Rating:
0
(from 0 votes)