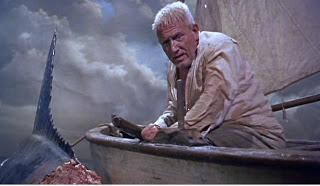 Of all Ernest Hemingway's literary works, The Old Man and the Sea seems an odd choice for adaptation. While essentially an adventure story, it's driven more by melancholy monolog as seafaring excitement. John Sturges and Spencer Tracy try their hardest, but The Old Man and the Sea (1958) is an ill-conceived drag.
Aged Cuban fisherman Santiago (Spencer Tracy) hasn't caught a fish in 84 days. Setting out on one last mission, Santiago hooks a giant marlin that drags him across the ocean. In a titanic struggle, Santiago manages to subdue the fish, but only after jettisoning his equipment and nearly losing his life. While returning home, Santiago reflects over his long life as a fisherman, lamenting his lost youth and virility.
An ambitious, artistic filmmaker could have made Old Man into an interesting film. But studio workhorse Sturges tackles Hemingway in the safest, most literal fashion imaginable. Hence Tracy's wall-to-wall narration, stiffly reciting Hemingway's prose against James Wong Howe's colorful backdrops. Hence Dimitri Tiomkin's pompous, intrusive score that never lets up. It's the worst kind of adaptation, a Classics Illustrated rendering that won't let the story speak for itself.
Spencer Tracy provides a gamely physical performance, wrestling with fishing lines and arguing with marlins and sparrows without seeming ridiculous. Even Tracy's best efforts prove fruitless against a script that won't let him shut up: his narration bleeds into dialog without warning or pattern, differentiated only by an iffy accent. As Old Man's essentially a one-man show, it rests on Tracy's performance. And Sturges, unfortunately, gives him no room to act.
Admittedly, Old Man is beautifully shot: Howe captures Cuban and oceanic scenery, notably a gorgeous visual of lantern-lit fishing boats sailing in the dawn. But Sturges' rote technique wears thin, cutting between second unit sea footage and Tracy in extreme close-up, interspersed with periodic flashbacks. The bluescreen seams show and the narration. Only Tracy's battle with rapacious sharks really registers, allowing Sturges to focus on action over portentous perorations.
Even in a world where Bartleby the Scrivener and Death in Venice have inspired movies, The Old Man in the Sea seems singularly misguided. The allure of adapting one of Hemingway's masterworks must have seemed irresistible, especially for the ultra-masculine Tracy, but he and Sturges should have resisted. At least they didn't tackle Hills Like White Elephants.