The other day, the staff was conversing in the general office.  My four year old son, Connor, was "assisting" us that day by telecasting the "Ghostbusters" movie for our entertainment pleasure since he had no daycare.  Taking a break from busting ghosts, he stood amongst the women while they chatted.
Kassy, one of my assistants, was standing behind Connor, and she began gently running her fingers through his soft red hair as the conversation continued. 
Connor rolls his eyes up as if trying to look at her fingers as they roll through his hair, and asks, "What are you doing?"
She responds, "I'm playing with your hair."
He turns, looks at her, and states matter of fact-ly,   "I am not a toy."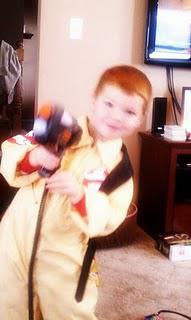 The roar of laughter emanating from the general office was deafening...
You are invited to share a link of the blog http://www.vetrescue.blogspot.com/ on Facebook, MySpace, or Twitter.



If you would like to receive this blog into your email inbox each time it is published, go to http://www.vetrescue.blogspot.com/ , and enter your name into the subscribe box on the upper right side of the page. The blog will send you a confirmation email. Reply as instructed in the email to confirm your subscription. This is a required step. You will then receive the blog as it is published. You will not get junk mail as a result of subscribing!