Existential crisis.  Compassion fatigue. Complicated grief.
When my Mother passed away, I was devastated.  Who was I going to call when I did something exciting?  Who was I going to call when I was upset?  Who was going to say they were proud of me?  Who would worry about me when I was sick?  Who would tell me to be careful when I went to do something adventurous like rock climbing or scuba diving?  Who was I going to make proud?
I would see a two year old giggling with her mom in a store and think, "Someday that little girl is going to feel the pain I feel now after losing my Mom."  I could not see the happy years between the girl of two years old and the girl who lost her mother.
I agreed to move to Iowa...from Rhode Island.  There were too many things back home that would remind me of my Mom anyway, so perhaps I was meant to move on. perhaps this was where I was meant to go?
I opened a small animal clinic in a small town.  My intention was to build a small animal hospital that would eventually make a profit.  What I found was that our entire county lacked any humane animal facility for homeless strays or owner relinquished pets.  AHA!  A new life purpose?  Something that was meant to be? Fate?  Destiny?  Is this where I was meant to go, my life's challenge?  Was my Mother looking down and smiling?
I ran my for profit clinic as an animal shelter and low cost spay neuter clinic for twelve years, without collecting a paycheck for myself.  Twelve years.  I payed my staff, sadly I had to pay them poorly, but they seemed to be as dedicated as I was to making a change to benefit the animals that needed our help.  I assisted rescues and shelters with animals in need.  Let's just say that I have an inability to say no, even when I should.
I participated in a hoarding "rescue" after my assistance was requested.  I was denied the ability to save the number of animals for which I had rescue commitment.  Most were euthanized as "unsaveable".  I was horrified that as a group, our rescues could have helped more cats and kittens than we were allowed.  I was horrified that euthanasia was preferred to entrusting them to a  colleague with the same degree who was willing to at least try to save them, and pass them on to licensed shelters and rescues that were already holding spots for them. I was horrified.
I participated in another hoarding rescue.  I enlisted the help of another and together we had a state approved temporary shelter in place, I enlisted the help of Animal Protection and Education to get fifty cats spayed and neutered, vaccinated, tested for leukemia and FIV, microchipped, and treated for fleas and worms within one week of their removal from the house. My partner in this rescue managed to get the funds to have this effort completely paid in full. We received donations of food and litter, cleaning supplies, The cats were ready for adoption! Success!
We asked rescues and shelters for help taking in some of the cats, and several of them did and for those rescues we are eternally grateful.  But several others did nothing but criticize our efforts, and refused to take in any cats.  They called me at my home and told me I did it all wrong.  We had fifty cats breathing clean air, eating healthy food, in a safe place, COMPLETELY vetted, and ready for adoption or rescue transfer... but we did it ALL wrong.  These were the same people who sympathized with me over the previous hoarding situation.  The same people who said those cats should not have been euthanized were now refusing to help us relocate these cats because we did it wrong in their opinion.  I thought they would help these cats and we could prove as a dispersed team made up of individual rescues and rescuers that these situations don't require the death sentence. What a statement that would have made!
I have watched for years as people bring me stray cats or kittens found in their yard or relinquish their own pets, for me to rescue, vet, and rehome.  Those same people continued to go to another local vet with their pets, but when they needed help, their vet was not willing.  I have dedicated years to helping a community, to helping animals, to helping people, to helping rescues, believing I was doing the right thing.  I was led by my heart.
The bad thing about being led by your heart is that it leaves your heart extremely vulnerable.
Years of financial struggling and lack of support from the layperson was hard enough.  Being taunted by other rescuers, rejected by former employees and friends, makes the surmountable become insurmountable.
Allowing my heart to lead my way was my legacy for my children.  Do what your heart loves, not what lines your pockets. Now I fear that I believe that being led by your heart is naive and doomed to fail.  
I want nothing more than to talk to my Mother, who would probably say "Why do you care what other people think?".  But when those who think against you, or worse, those who neglect to think about you are stacked so HIGH, it becomes overwhelmingly hurtful.
I have lived my life trying to make a difference, and while I didn't do it for recognition or gratitude, my brain is telling my heart to STOP!
I posted this image on my facebook page...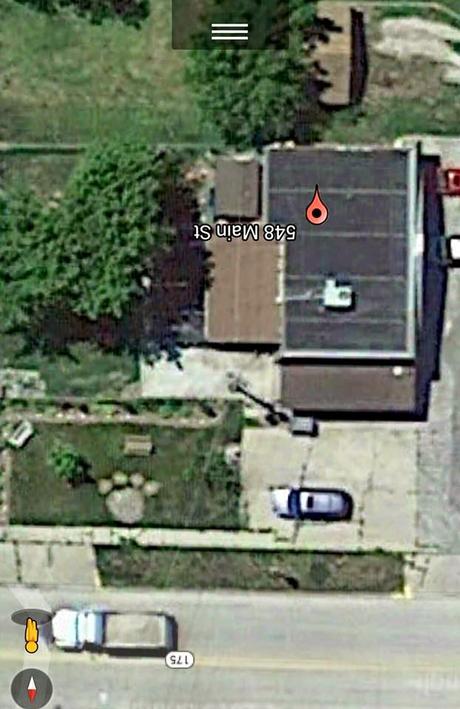 Read this blogs: http://vetrescue.blogspot.com/2010/08/pooch-park-takes-another-step-forward.html and http://vetrescue.blogspot.com/2010/08/pooch-park-one-giant-step-for-dog-kind.html
It is a Google Earth satellite image of my clinic and the small park we built and dubbed "Pooch Park" with the landscaped paw print made of brick and stones.
As long as this paw print is there, I will think of it as my reminder of the mark I wanted to make on this world.  It is my symbol of hope and love for those who need to feel hopeful or to feel loved, both animal and human.  It is my symbol of hope, hope that I will not give up and a symbol to remind me that there are those who love me, and perhaps it is time to focus on them.