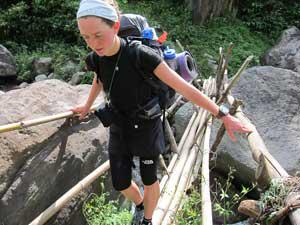 Lizzy Hawker Photo by Richard Bull
All four events at the 2012 TransGranCanaria have sold out.
The North Face®, the world's premier supplier of authentic, innovative and technically advanced outdoor apparel, equipment and footwear, announces the addition of Tsuyoshi Kaburaki (JPN) to its ultra running team taking part in The North Face Transgrancanaria event, Canary Islands, Spain between 2nd- 4th March 2012.
World-renowned, Japanese ultra-running athlete, Tsuyoshi Kaburaki, winner of almost 40 trail races and race director of The North Face Ultra Trail Mount Fuji, joins The North Face European performance athletes Zigor Iturrieta (ESP) winner of the 2011 edition; Lizzy Hawker (GBR), women's winner of the 2011 edition of The North Face Ultra Trail du Mont Blanc (UTMB); Sebastien Chaigneau (FRA), recent winner of The North Face Lavaredo Ultra Trail, and third position in the 2011 edition of the UTMB; and Fernanda Maciel (BRA). Each will take part in the full 123-km race. Kaburaki is the athlete behind the development of the Single Track Hayasa, the lightest and fastest running shoe The North Face has ever created.
Marking the start of the ultra-running season, the Transgrancanaria features races for all levels of runners at various distances: from the full 123-km race; a coast-to-coast 96-km race; a 42-km marathon; and, a starter run of 24-km. With an accumulated elevation of 11,000m, the 123km race has a time limit of 31 hours and approximately 500 participants.
Additionally, registration for the Lavaredo Ultra Trail is now open from 14th-28th February 2012. Starting and ending for the first time in Cortina, Italy, the Lavaredo Ultra Trail will take place between June 29th-30th 2012. The 120km race, run by 1000 participants through the heart of the Italian Dolomites covers an accumulated height gain of 6,000m. To register, all candidates must have completed a qualifying two-point race in the last two years. Registration for the Cortina Trail, a 50km race scheduled for 30th June 2012, opens on 8th March 2012.
Competitors of the Transgrancanaria and the Lavaredo Ultra Trail can gain points needed for the prestigious UTMB. Together with a strong team of performance athletes, comprehensive ultra running gear and footwear, the three events provide a strategic brand story throughout the ultra running season.
For registration, regulations, qualifying races & detailed information, visit:
The North Face® Transgrancanaria www.transgrancanaria.net
March 2nd-4th, 2012: Gran Canaria, Canary Islands, Spain
The North Face® Lavaredo Ultra Trail www.ultratrail.it
June 29th -30th, 2012: Cortina D'Ampezzo, Dolomites, Italy
The North Face® Ultra-Trail du Mont-Blanc® www.ultratrailmb.com
August 27th- September 2nd, 2012: Chamonix, France
The North Face® Ultra-Trail Mount Fuji® www.ultratrailmtfuji.com
May 18th-20th, 2012: Mount Fuji, Japan