Whilst in Nepal, M and I traveled to Chitwan and Lumbini, this was our first trip outside of Kathmandu valley on our own so we had the freedom to do whatever we liked! When we finally got to Lumbini we checked in at the Lonely Planet guide book's 'Top Choice' which was a small hostel type guest host which was well past its time. There was lizard poop all over the rooms (and bedding) and no water at all for our stay. The next night we decided to ditch the guide book and try a new place which was twenty minutes walk from the rest of the guests houses- it was an Osho retreat.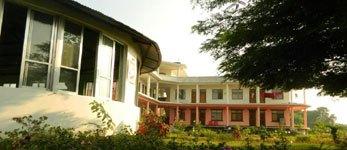 The Lumbini Jet Ban Resort Source: Google Images
With a name like Jet Ban resort, I had know idea it was actually an Osho retreat. In fact, I had never heard of Osho before that night and checked into the room without being aware that it was an Osho commune. After M explained to me a bit about the controversy surrounding Osho and we did some rookie research on google, I didn't really know what to expect from our stay. Nevertheless, we prepared ourselves for a night in a commune dedicated to a sex guru.
We were greeted by the disciples (sannyasins) that were living there and running the guest house. They were very simple people who wore a simple red/orange robe and a beaded necklace, known as a mala, which has a photo locket of Osho at the bottom. When they devote their life to Osho they give up their birth name and take on a new name representative of their faith in Osho, which in a way seals their new identity. One of the devotees that we spoke to had left her husband and family after finding her faith, she then came to live in Lumbini and devoted her life to Osho and the commune.
In the afternoon, we watched some educational videos about the faith, the initiation conferences and Osho's teachings. The conferences they showed us were quite overwhelming with many people speaking in tongues, screaming and generally very hyped up and hysterical. I was a bit unsure about what I was learning about Osho and felt a little uncomfortable.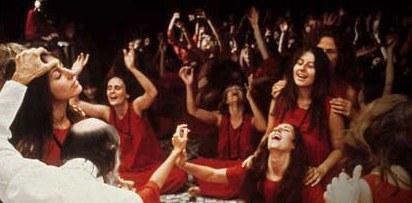 A still from an Osho video
Source: Google Images
That being said, I found it incredibly captivating to watch the Osho followers in the videos let themselves be so free. The followers were just dancing and singing by themselves in the middle of the garden with no care in the world. There was no self-conscious behavior from anyone in the videos and all the people looked so purely happy and trance like. I liked some of the messages that Osho taught about humanity and unity and thought they were important lessons to take away regardless of faith.
Later on in the evening, we joined the sannyasins in the evening meditation for which they had changed into their white robes. At first I was at ease as we said some mantras and worshiped the Buddha and a picture of Osho (although M and I didn't partake in the latter). Next, we listened to music and were encouraged to jump around and dance letting our emotions run through our body.
I am the most awkward person ever when it comes to dancing so this made me even more uncomfortable. Yet, I gave it a go and jumped and span around a bit. As the music went on the sannyasins were really getting into the music and started making pleasurable noises and some of the women and men were dancing close together which I found even more awkward. I just carried on jumping up and down in my corner hoping for the next bit to start.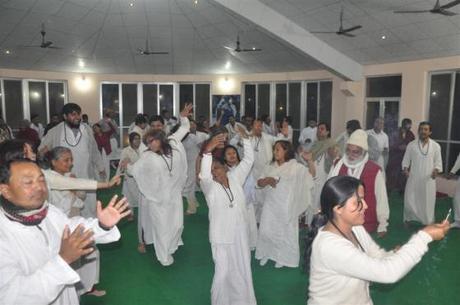 A meditation camp at Lumbini Jet ban Resort
Source: Google Images
Luckily, my wishes came true and we all laid on the floor listening to a speech given by Osho. It was quite an interesting talk on love and cohabitation before marriage. I could see why people deem him as a guru, his language was very emotive and persuasive and really very captivating. After the calm part of the meditation we were told to freshen up before eating. This was my favorite part of the stay as the food was so wholesome, homely and tasty – I went up for second helpings. Osho states that mealtime is a prayer, a meditation, in itself – this is something I agreed with. The mealtimes were in silence which suited me as I could put even more handfuls of dalbhat in my mouth as I wasn't talking!
The next morning, M and I had to leave before breakfast was served in order to get our early morning coach back to Kathmandu. I was sad about leaving the commune without eating more amazing food, but also sort of relieved to be leaving. After my night at an Osho commune, I learnt a lot about Osho the controversial "sex guru". However, I really don't think I will be finding out any more about him soon, one night in an Osho commune was enough for me!