TAKEAWAY: For newspaper readers, real lean back experience may be just before going to sleep.  Berlingske, a Danish newspaper, capitalizes on that idea.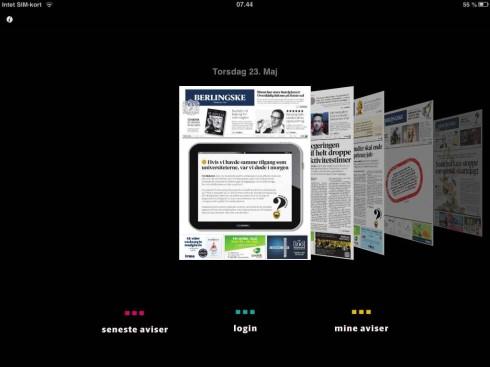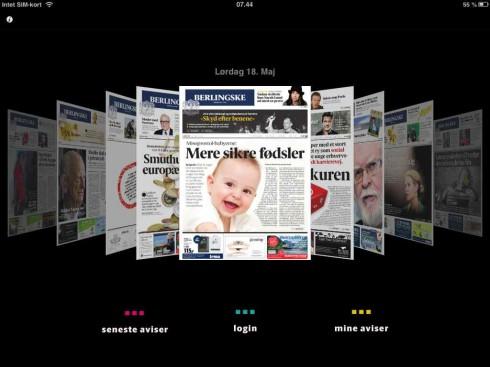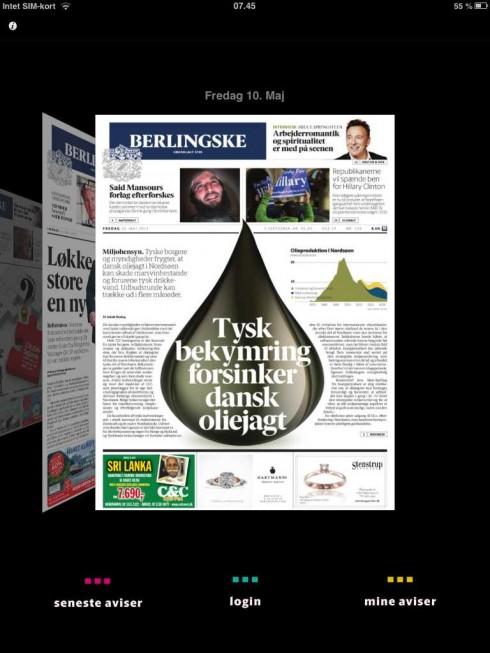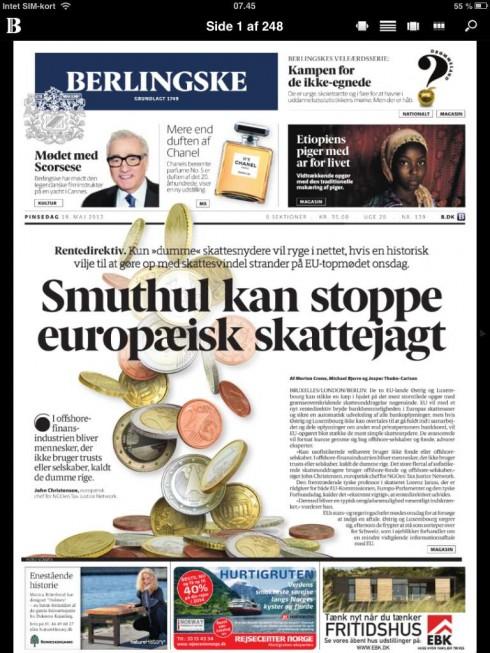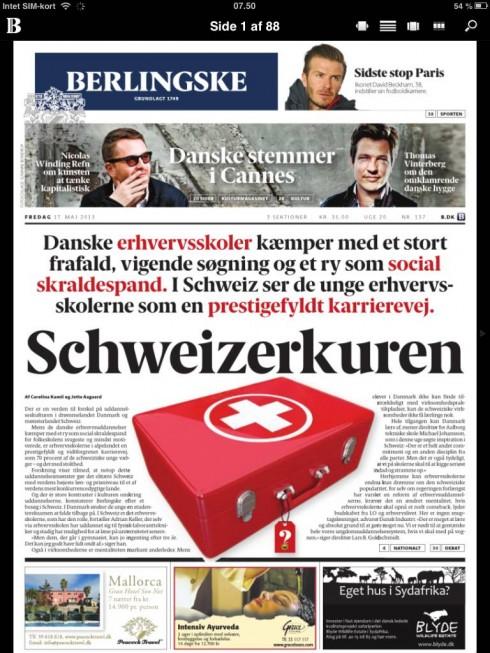 Readers of Denmark's Berlingske have the choice of various editions of the newspaper to read
We all know that time is a precious commodity in everyone's life.  Getting the time to sit down and read calmly, the real lean back experience, is not easy.
The idea of sitting down with one or two cups of coffee in the morning to flip thru a multi section printed newspaper is becoming more remote for many, not to mention that the experience is totally alien to digital natives who don't remember life without Google.
So, the folks in Denmark, at Berlingske, have enjoyed certain success with a brilliant idea: to put a pdf e-reader version of their printed newspaper on the evening tablet edition.  Yes, one can read tomorrow's newspaper "hot off the press" right in the tablet, around 10:30 pm, and before one turns off the light to go to sleep.
Anders Kring, Development Manager, Berlingske Media, tells me that he and his team do see "a lot of reading going on on our digital platforms at night".
It is my understanding that studies do show that the general public does still appreciate the the narrative guided tour through a newspaper (or a pdf reader version of the newspaper). It is my believe that this exact approach to news consumption, which is very lean-back, fits very well with late night consumers, so it does very much make sense to release this media at night.
Kring adds:
Throughout the day where people are more under time-pressure and, to say it frankly, awake, I think the other, more lean forward, digital medias, like normal news websites, are more appropriate. 
"Many people are enjoying this, telling us that they simply don't have the leisure time to read their paper in the morning, so reading it in the evening is just right," says Jens Jørgen Madsen, Berlingske's digital editor.
I believe this is an idea that merits attention as more publishers and editor seek ways to maximize use of tablets by their audiences.
Previously about Berlingske:
Denmark's Berlingske : here is tablet app that strikes the balance of newsy and pictorial
http://garciamedia.com/blog/articles/pdenmarks_berlingske_tidende_here_is_tablet_app_that_strikes_the_balance_of
Of special interest today:
Here a provocative piece that forecasts its version of who will and will not survive in the current media landscape.
The takeaway: As the paywalls go up all over the world of newspapers, it is becoming clear that the big "legacy" winners will mostly come from two groups: the largest and the smallest newspapers.
The "I am not so sure moment":
Many readers simply consider that watching a video is a faster way of getting the news than reading a story
Of course it may be faster, but isn't it a totally different type of experience and reader engagement?
Go here:
How publishers can find digital success in melting media
http://flashesandflames.com/2013/05/09/how-publishers-can-find-digital-success-in-melting-media-if/
TheMarioBlog post #1263