This is the weekend edition of TheMarioBlog and will be updated as needed. The next blog post is Monday, August 15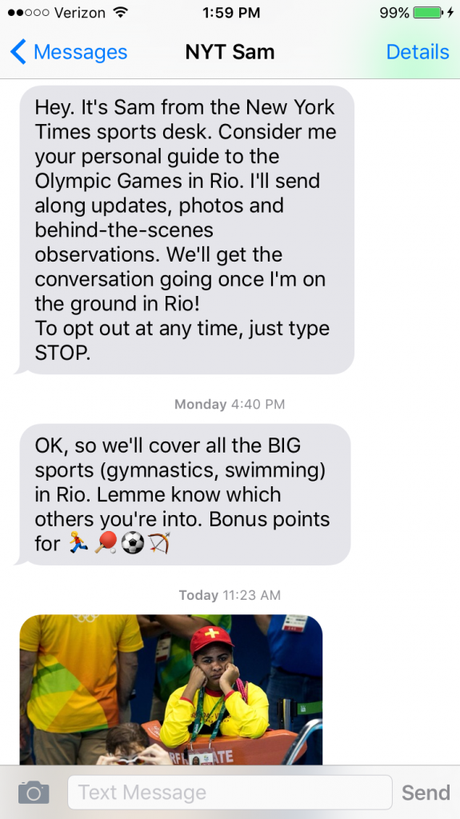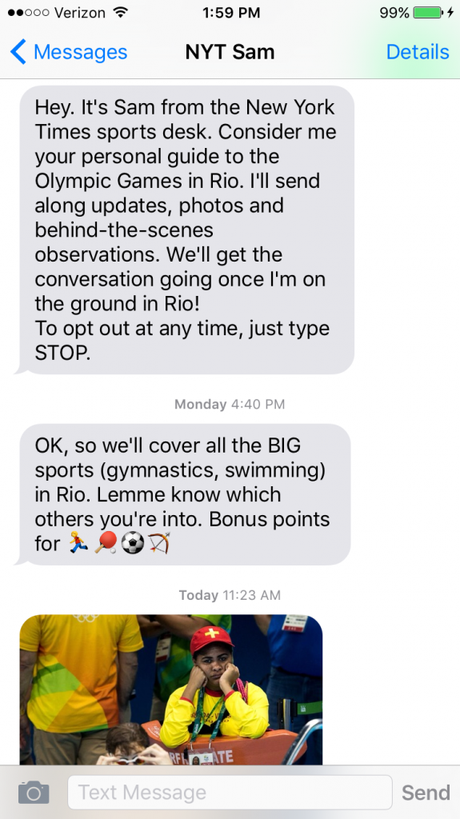 It is not just the athletes that are keeping us interested and glued to our mobile devices. At The New York Times there is experimentation, too, during the Games, this time with two-way text messaging as part of its coverage of the 2016 Olympic Games.
In a first of its kind for The Times, deputy sports editor Sam Manchester is sharing personal dispatches, photos and GIFs from Rio with a limited number of Times readers via SMS. He'll act as a behind-the-scenes guide to the best moments of the Games. And he'll invite readers to ask questions and share their reactions throughout the experience.
To text with Sam, readers can sign up directly with the Times or text RIO to 63937. The conversation will last throughout the Summer Games.
There is more than SMS messaging to keep informed about the Games, however. Readers can also stay up to speed on Olympics news by signing up for the free Sports newsletter, which will be delivered each morning during the Games, or Olympics push notifications in the iOS and Android news apps.
TheMarioBlog post # 2469
Please enable JavaScript to view the
comments powered by Disqus.
comments powered by

Disqus