There are a few pitchers that I would love to face as a hitter.  Justin Verlander is one of them.  When I say "love to face" I don't mean "I'd love to face them because they are not very good."  Watching Verlander on TV is something special in and of itself but standing in the box and seeing his stuff firsthand would be quite an experience.  Probably the fastest thrower I ever had a chance to hit off of threw about 95mph.  Verlander usually tops 100mph(!) a few times a game.  Unbelievable, but when you add to that a nasty curve ball, it seems a little unfair.  I think it's time they call him up to the next level!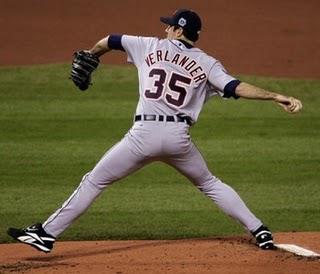 Detroit Tigers pitcher, Justin Verlander
The scariest thing of all is that Verlander is now starting to learn how to pitch.  I was listening to the "Mike & Mike Show" on ESPN radio one morning and Justin Verlander was interviewed.  He was introduced as "the best pitcher in baseball" and then was asked to explain why he seems to be getting better and better.  I wish all the young pitchers of the world heard his answer.
He said that he has matured a lot and finally learned that he does not have to "max out" on every pitch.  He basically described it as throwing on three levels: average, below, and above.  When he was younger, he tried to max-out on every pitch meaning he tried to throw as hard as he could all the time.  That consistently put him in the upper 90's (frequently over 100) but his command suffered and his energy drained much quicker.  He also realized that if a pitcher stays in the same area in terms of velocity, major league hitters will eventually time it or "square it up."  That is not good news for any pitcher no matter how hard they throw.  Knowing this, he now lets off the gas pedal a little which drops (?!)  his average fast ball into the mid-90's for most of the game.  This gives him the ability to drop below the mid-90's as needed by taking a little off his fast ball to mess with the hitters' timing.  It also allows him to go in the other direction as well.  If he needs a big strikeout in a key situation, he can hump it up to 100+mph to get it.  This is why you will routinely see him hit his highest velocity late in the game.  He saves something for the later innings by not maxing out early in the game like most pitchers do.  Instead of being in the 97-100mph range during the game and being drained by the 6th or 7th inning, he now is in the 93-101 range and routinely pitches into the 9th.  For a hitter, timing a 97-100 mph is not easy but it's easier than covering the entire 93-101 range.  
Scary to say but focusing more on command throughout the game and using a wider range of velocity has made him into an even more dominant pitcher.  
Great advice for any pitcher. Even if they don't throw 100mph.