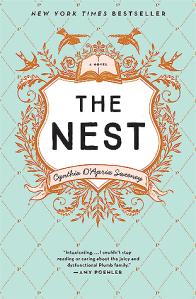 The Nest is a story of four adult siblings in a dysfunctional family.  They will come into a large inheritance ("the Nest") when the youngest turns 40, which is in a few months.  The problem is the oldest sibling, Leo, got into a car accident and the money for medical expenses, rehab, and liability came out of the trust fund.
Whether you like this book will probably come down to whether you like unlikable characters.  The siblings in this book range from pathetic (Beatrice) to selfish (Melody) to criminal (Jack), although none can be characterized as simply as that.  I enjoy reading about dysfunctional families, and I find unlikable characters infinitely more interesting than likable ones.
I also found the premise interesting, which is this: if you knew you were coming into money in your 40's, how would it influence your life choices?  The siblings are told by their parents, and their spouses, to pretend the money isn't there.  Let it be a gift when it comes, but live your life responsibly, like an adult.  That's the reason it's given to them in their 40's, not their 20's.  But of course it doesn't work that way.
Having siblings myself, I appreciated the complex interplay among them.  They are mostly indifferent to each other, tied together unwillingly by this trust fund, but Leo inspires more of a love-hate relationship as the eldest brother.  This seems to be because as children, he was alternately kind and cruel to them, sometimes stepping in as "parent" when their mother failed (which seems to have happened a lot), and sometimes simply being mean (as older siblings can be).
This book would have benefited from more exploration of the siblings' childhood and why they turned out the way they did.  The glimpses we get (Melody's childhood birthday party, for example) are few, and their mother remains more of a caricature of a bad parent rather than a fleshed-out one.  There's an interesting moment when Leo's friend Stephanie asks herself whether most people come from screwed up families or whether this one is different (and consequently, to what extent is your dysfunctional family an excuse for your poor behavior as an adult?)
I really liked the way Melody, Jack, and Beatrice developed during the course of this book, and it definitely kept my attention.  For me the book has one great flaw which will keep me from recommending it.  I hated the ending.
(NOTE: not a spoiler but feel free to skip this paragraph about the ending.)  There are readers who like messy, unresolved endings and readers who want everything all tied up with a nice bow on it.  I'm in the first category.  In this book, you get messy and unresolved until the end, when everyone seems to become a completely different person. If this book had ended several chapters earlier, I would have loved it.
The Nest is Sweeney's first novel and I think it has flaws but also some great moments.  I loved the characters, even though unlikable.  I just think the end fell flat.  I've seen this book on several "Best of 2016" lists.  If you read it, what did you think?