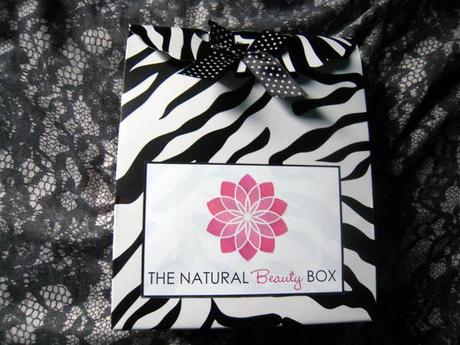 Remember my post on August 2012′s The Natural Beauty Box? Yep, I'm still subscribed! Still one of the best beauty subscription services to date, The Natural Beauty Box provides deluxe samples of products of healthy, natural and pure skin care, hair care, body care, and cosmetics for a greener lifestyle. The products are wholesome and natural, and are safe – no need to worry about any undesirables!
Curious about The Natural Beauty Box? Here are some of their features:
All products are 95-100% natural
At least 10-15 deluxe samples in each box (no foil samples)
Ships internationally
Filled with useful beauty tips and tons of coupons for every product in the box
They promise to NEVER include the same product in 2 months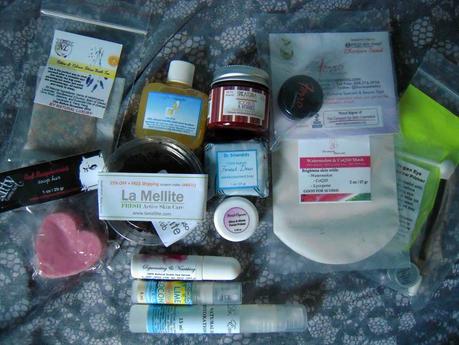 The September 2012 box included 13 deluxe samples and an overall retail value of $107.10! I love these deluxe samples as they give me enough product to test out its effectiveness without feeling like I have to commit, and their portability makes them handy for just tossing them in your purse for  quick touch-up. Their sizes are generous enough for you to decide on whether you want to go full-sized.
At any rate, subscribe and have fun discovering new brands – and feel secure knowing all the products you're using are safe for your skin and good for the planet.
Purchase any of these directly at The Natural Beauty Store!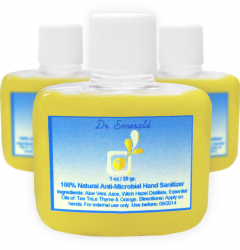 Dr. Emerald Natural Hand Sanitizer
Lately I've had a serious need for hand sanitizer. I want to avoid getting sick this holiday season, and cleanliness has always been important to me. However, I hated the strong alcohol smells from conventional sanitizers. But, I never thought to look for a natural based one. This hand sanitizer from Dr. Emerald was surprisingly pleasant!  It rubbed on easily and has a nice citrus-green scent. It's liquid so it can be a bit awkward to apply at first.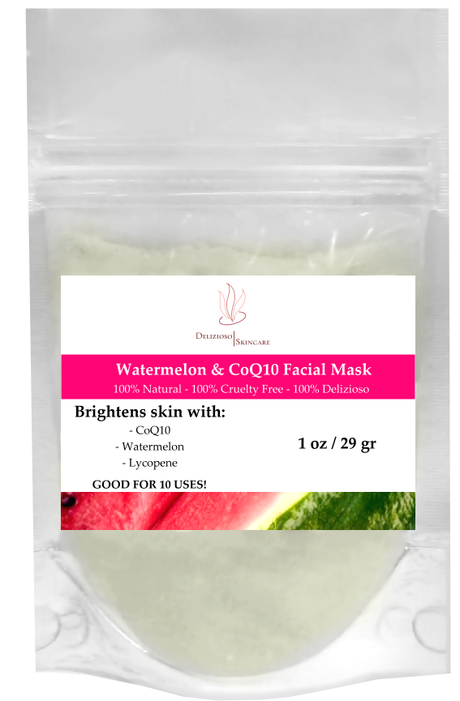 Delizioso Skincare Watermelon CoQ10 Face Mask
Wow, it seems like The Natural Beauty Box was reading my mind in September! I had just run out of my clay mask and was thinking about what to try next. Seeing as I love Delizioso, this was a fantastic sample for me! Normally I don't like the sort of clay mask where I have to mix it (I like my products pre-made for convenience) but I was willing to give this one a shot.
I mixed it with water and applied some to my face. It dried within 10 minutes and smelled subtle. After rinsing with warm water, my face felt noticeably softer. I've tried another pineapple clay mask from another company and that one was way too strong. This felt gentler.  A nice mask, but would be even better pre-made!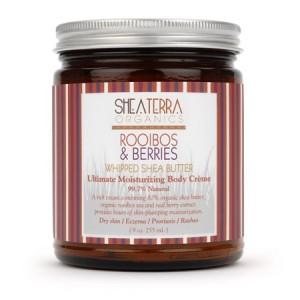 Shea Terra Organics Whipped Shea Butter Creme (Rooibos & Berries)
I've actually already tried Shea Terra Organics' body cremes, so I knew what to expect when it came to texture and how it felt. (You can see my review on them here.) But, I never tried the Rooibos and Berries scent yet, so I was glad for the opportunity.  The scent was very sweet and light from the jar and just as nice on my skin. I personally love stronger, not-so-subtle scents from my body care, but I've been on a berry kick so this one won me over despite its subtle fragrance. Super moisturizing and rich as well.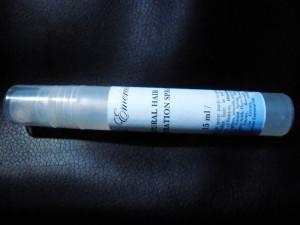 Dr. Emerald Hair Restoration Spray
Meant for daily use, this light moisturizing spray is made to strengthen, nourish and revive your hair naturally using silk amino acids, Vitamin B3, seaweed and more. It comes out in a mist and is easy to spritz. My hair's dry but long so I tested this on the ends. After every spritz it does feel nicer, I have to admit. It also doesn't ruin my hairstyle, curl up the ends (I use a flat iron to keep them smooth)  nor frizz it up like it usually does after spray-on conditioners. There is literally no scent so it won't mess up any other hair fragrances you may have. A nice addition to your purse to pick up droopy styles!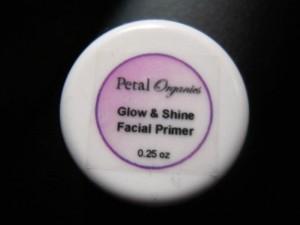 Petal Organics Glow & Shine Facial Primer
I'm not big on using lots of cosmetics so I have little use for primer, but I tried it anyway. Primers are supposed to be your base to help the makeup on top of it last longer. I used a bit of it with some foundation on my forehead in the morning, and as expected, it worked just like it should. My foundation did last all day and it felt fine on my skin. There's very little fragrance to it. The primer is on the harder side, something I wasn't expecting, and the jar it came in was small so it took some tries to get enough product.  I wouldn't get any primer myself so this was a nice way to try it.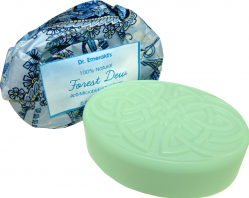 Dr. Emerald Natural Anti-Microbial Hand Soap in Forest Dew
Like others have pointed out, the packaging is adorable and makes a great soap to display in your guest bathrooms! I love the scent as well. It's very.. soapy and clean, for lack of a better phrase. This lasts a while – I'm still using mine – and does a great job cleaning without overdrying like other conventional anti-microbial soaps do. I pair this with Dr. Emerald's hand sanitizer for best results.  Two thumbs up for super clean hands!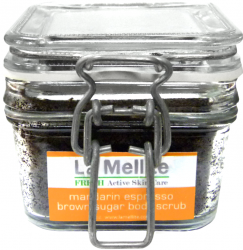 La Mellite Mandarin Espresso Body Scrub
Well, we all know I love coffee, and I could smell it through the container so I was super excited to try this! The scent is amazing, of course – just like freshly ground coffee – but it was crumblier and drier than I expected from a body scrub. As an exfoliant, it worked amazingly well, and I love the rougher abrasion against my skin. It's so nice to see more and more coffee scrubs out there, but the ones I can make at home work just as well so I'll stick to those in the end. However, there's nothing too bad about this one!


The All Natural Face Cosmetics Vegan Eyeshadow Primer and Mineral Eyeshadow in Deep Sea Green
Again, not a big cosmetic user so I didn't use this right away. But I eventually came around to it. I applied it to my eyelid with my finger as the instructions suggested, then used the applicator it came with to apply the green eyeshadow. It's a deep dark green and shimmery, and wasn't flattering on my tan skin. I also shy away from mineral makeup because of its mess factor. But, it did last all day, and with my forever oily eyelids, that was a surprise! My eyeliner and mascara usually gets smeary and my eyeshadow fades in mere hours due to them, so this was a real treat!
Now I'm convinced that primer for my eyelids is a must if I decide to wear makeup, but I don't think I need it for my face (in reference to the facial primer I mentioned earlier)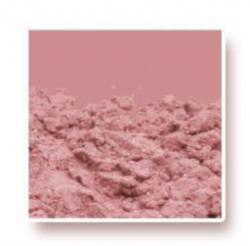 Ferro Cosmetics Blush X3 in Desert Rose
Admittedly, I never got to try this myself as I just don't like blushes much. Instead, I gave it to a friend with a lighter skin tone. Her review is this: "It has a great color and high pigmentation. It came out a bit dark on my skin at first, so for my second, more careful application I used a bit less and built up, which worked better.  it blends very easily and feels like a high-end product – I'm so surprised this is natural! It made me look healthy and a bit flushed all day, which I loved."
According to Ferro Cosmetics, Desert Rose is a new 2013 color, so I guess this is a prime time for blush fans to try out a nice, neutral and universally flattering color with a natural touch!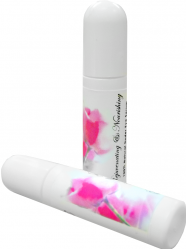 Natural Luxury Rejuvenating & Nourishing Under-Eye Serum
Made with pure ingredients like cucumber extract, macadamia nut oil and Vitamin E, this convenient rollerball applicator treats your undereye  bags with super nourishment and care. Fantastic for drier skin, and the rose scent is amazing. I'm not sure why I never thought to get a rollerball eye treatment as I love products that apply quickly and without fuss. No irritation and I think my eyes looked brighter the next morning!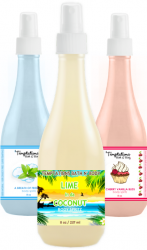 Temptation Bath & Body Lime in Da Coconut Body Spritz
Ok, let's recap on scents I have a huge bias for – tropical, exotic, floral, fruity, and coffee. This scent fit that preference very, very well! For a body spray that only has spring water, oils and xanthan gum, it lasts an amazingly  long time (about an hour or two).  I smelled more coconut than lime, and you know, I never knew why I saw the two being mixed up as a fragrance so often. Now I see why – they smell great together! Rich coconut with a hint of citrus. It definitely takes you to a beach like paradise mindset, and is absolutely perfect for the summer (or when it's cold and you need to inject some summer into your atmosphere). I keep the sample in my purse now.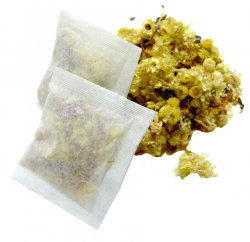 Natural Luxury Relax & Relieve Stress Bath Tea
Purely a luxury item, use a nice, soothing bath tea like this when you really need to unwind with some nice aromatherapy to go with it.  It smells very woodsy and natural, and definitely soothing.  Because I can't take baths, I used this as a foot soak and it worked wonderfully as one.  My feet were very happy afterward! There wasn't any noticeable skin difference, so again, this is solely to use when you need to unwind.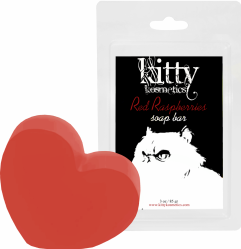 Kitty Kosmetics Natural Soap Hearts in Red Raspberries
Aww, this is such a cute little soap! I love cats, berries and soap in general, so why not mix the three, right?  This adorable heart shaped soap created super lather and smells very strong, which I love! The raspberry scent is wonderful and sweet, like a Jolly Rancher. It left my skin feeling noticeably softer, too. My only caveat? The price – 10.00 for 3 ounces is a bit too rich for my blood, even for the heart shape novelty factor. I'll gladly use my sample up in the meantime, though!
Interested in The Natural Beauty Box? Purchase your box here or simply buy the full sized products at The Natural Beauty Store! I can't wait for September's box, and I intend to keep subscribing for as long as they're around! :) Overall, The Natural Beauty Box gets a perfect 5 stars for the wonderful products, incredible value and for truly being a uniquely natural beauty solution for those wanting to be a bit more green! :)