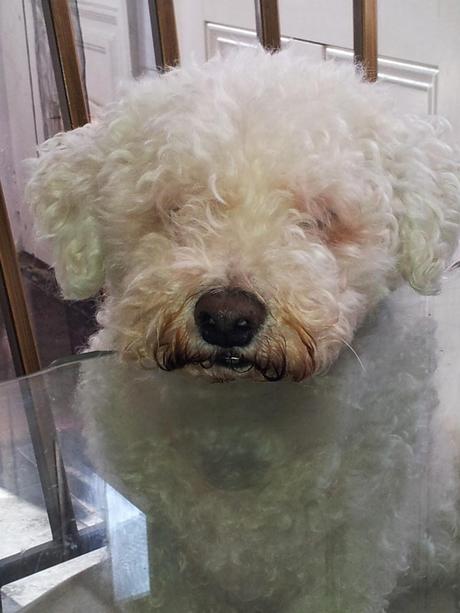 by Ashley Lister
 This week's theme is questions. One of the questions people often ask me is, "What are you doing in my garden?" One of the other questions they often ask is, "How did you name your dogs?"
Because T S Eliot has already explained about the naming of cats, I thought I could appropriate his original verse to explain the process behind the naming of dogs.
THE NAMING OF DOGS
The naming of dogs is no difficult matter,
Whatever you call them, they'll drive you insane;
You may think at first I'm as mad as a hatter
When I tell you, a dog must have three different names.
First of all, there's the name that the family use often,
Such as STOP IT, BE QUIET, or IT SMELLS LIKE BLOCKED DRAINS,
Such as SHUT UP, DON'T CHEW THAT, IT STINKS SOMETHING ROTTEN—
All of them daily-use everyday names.
There are fancier names if you think they sound sweeter,
Some for the male dogs, some for the dames:
Such as ARSE BISCUIT, FUCK NUGGET, YOU-LITTLE-TIT-YOU-ARE—
But all of them sensible everyday names.
But I tell you, a dog needs a name that's particular,
A name that's peculiar, and more dignified,
Else how can he eat up his own steaming sick that's there?
Or lick his own anus, starting inside?
Of names of this kind, I can give you a quorum,
Such as DIMWIT, CLUNGE SNIFFER, or DRINK FROM THE BOG,
Such as CRAP-EATING-CANINE, or FOUL-FURRY-MORON —
Names that are often for more than one dog.
But above and beyond there's still one name left over,
And that is the name that you probably can guess;
Most of us call him FIDO or ROVER —
But the dog just ignores that plain form of address.
When you notice a dog in profound meditation,
Just licking its balls with no sense of shame:
his mind is engaged in inept contemplation
Of the thought, of the thought, of his unheeded name:
His ignored and unnoticed,
Effing neglectable
Heard but unheeded, singular name.