Buenos Aires has a myriad of options for music lovers as all kinds of genres can be found in numerous venues. It can be a bit overwhelming for a newbie, so I will try to give you an overview of what you can find. I think I have good taste in music, but keep in mind that this list is just a small portion of the musicians that make up the music scene here in Bueno Aires. Of course you can find many other styles, but I wanted to focus on what I know and love.  I have accumulated a list of some great individuals and bands that will be playing in the coming weeks and have included a brief description of each:
Buddha Sounds
Buddha Sounds is the brainchild of producer Seoan. Delivering a fusion of exotic textures and mermerazing voices, it blends Asian sounds with electronic hues and a power trio foundation (drums, bass and guitar). The add hipnotic visuals, lighting and hindu dancers and the result is a sensorial experience conductive to trance states.
Buddha sounds will be playing August 27 at ND Ateneo.
With that name, he doesn´t sound too Argie, right? Well, think again. Multicultural artist Kevin is the son of an Argentinian lady and an American sir. He was born in Alaska and spent many years in New York. His music can be described as fun, profound, playful and "reflective". Kevin has a band called "The Nada" and together they often tour Argentina, Latin America and Europe. The band is has core members, but they frecuently they have guests (like Lineirs, a local artist), and, of course, their music is bilingual.
Kevin and The Nada will be playing on August 26 in the city of La Plata (Calle 43 n 632) and on September 6 at a charity event for the benefict of Multiple Sclerosis Argentina.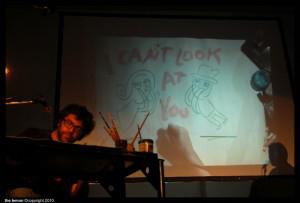 Paz Ferreyra is Miss Bolivia. Deleuzian psychologist. Yoga teacher. Lemanja devotee. Percussionist magnetized by rap music. Miss Bolivia is that and more. Part of her roots are in Córdoba, and from there she gets the love for tropical rythms, that she mixtures with piercing lyrics and experimental textures. She delivers the power of lower class neighborhoods with a very concious and enlightening message, often delaing with ecological issues, first nations fight against oppression and spiritual connection through music.
Miss Bolivia will be at the Fiesta Eyeliner, Salon Real (Sarmiento 1278) on August 27.
Mariano Massolo Quinteto
Mariano Massolo plays the harmonica. Not only that, he is a pioneer (in Argentina) of the "overblow" technique, something that if you are into harmonicas you will know what it is, and if you are not, you will believe me when I say it is something that will blow you away. Basically, what that means is that he can expand the sound palette of his instrument and play genres that are unusual for the harmonica, like bossa nova, jazz, tango and klezmer music, among others. With his quintet, he covers music and plays original pieces, creating an intimate atmosphere where the explosive interpretation of the instruments makes you want to listen again and again.
Mariano Massolo Quinteto will be playing at the CAFF on August 27 at 10pm (Sanchez de Bustamante 764).
La Familia Ingle
Another member of the big music family, the Ingle is an extrasensorial music combo where the charango, the bandoneon, the powerful bass and brass instruments accompany original, witty lyrics.  It creates a mix of gypsy, jazz and rock music. It is more of a music collective, since new talents are added regularly. A big family after all.
You can see them live on August 30 at La Oreja Negra 1271.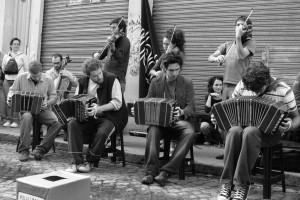 Les Mentettes
When I hear Adrian Rivoira´s voice the image that comes to mind is Dudley Moore with a Martini glass. Dandy meets clumsy or geek meets rocker. Elegant new wave. Les Mentettes is something unique and interesting that is happening in Buenos Aires. With an impeccable sound and an interest in transforming vintage music into something new. Frequently, they are Les Mentettes Orquestra, when they come to stage with an orchestra to play original songs and versions of the Kinks, Edith Piaf or Arcade Fire.
You can see the live next September 17 at Niceto Club.
For every taste, you are likely to find something that will please you ears. so go out and enjoy the Buenos Aires music scene.
Delfina